When there is ice and snow on the ground, spending time outdoors can mean feet quickly become cold. There is also a chance of slipping over if you don't have the right grip. This is where a good pair of snow boots for men and women can really make a difference, especially if you work outside, need to see to livestock, walk the dog and more!
Here's a guide to some of the best snow boots for outdoor activities, for both men and women.
Ladies First!
Women's Snow Boots
Sorel Women's Caribou Winter Snow Boots
These fine pair of Sorel Caribou snow boots not only look great, but they are more than capable of standing up to cold, wet and frosty conditions.
The waterproof rubber acts like a good pair of wellies, but with the added warmth of nubuck leather up and over the ankles. There is a thick inner lining, preventing cold from creeping into your boots.
Standing around in the cold at outdoor events, working outdoors, or visiting a cold country, these women's Sorel Caribou are a stylish pair of boots that will last for years.
The only possible negative with these boots is that they are on the chunky side, and perhaps a little heavy for many hours of wear. Yet, they are still lightweight enough to move comfortably for walks in the snow.
Also, these boots are roomy to take into account the thickness of the inner sock. It is recommended to choose a full size lower than your actual shoe size.
Sorel Caribou snow boots are stylish, fully waterproof, and will keep your feet warm in minus temperatures.
---
Merrell Women's Approach Tall Snow Boots
If you like a taller boot, the Merrell Approach snow boots for women are a chic option that stands up to the tests of snow and frost.
Made from waterproof-treated suede, and a waterproof inner membrane, you can be sure that your feet will stay dry.
The nylon quilt that covers the calves is flexible, adding to the comfort of the fit when you walk, and there is a quick adjust toggle at the top so you can secure it over your trousers.
A non-slip rubber sole means it performs well on icy surfaces, so those frosty school runs and dog walks should be no problem.
What sets this boot apart is the comfort rating – you are literally walking on air thanks to the air cushion within the EVA sole. You will be able to walk for hours in these!
They are also available in a silver/grey colour, so you are spoilt for choice with these snow boots!
---
Merrell Women's Thermo Chill Snow Boots
If you prefer women's snow boots that look more like a good hiking boot, the Merrell Thermo Chill are a fantastic option.
The contoured shape and flexible fit make it as comfortable as wearing a pair of trainers, but ones that are waterproof and warm. This means you can spend a long time outdoors on your feet.
Made from a PU coated leather, moisture will stay outside. On the inside, 200 grams of insulation keeps you cosy in freezing temperatures, plus there are antibacterial agents that help prevents them getting smelly!
Overall, these are a great all round pair of snow boots. One possible negative is that while the soles give good grip on snow and mud, they may not perform as well on ice. But, when you are on ice, there are not many boots that you could fully count on.
If you want something warm, waterproof and supportive to your feet, Merrell are always a good bet!
---
Groundwork Women's Muckers
If you are looking for budget-friendly snow boots that perform well in cold conditions, you won't go wrong with Groundwork Muckers.
A thick, cosy faux fur lining keeps those feet snug in cold temperatures, making them ideal for working in the yard, stomps through the woods or splashing in cold puddles! The non-slip sole prevents slipping over in icy or muddy conditions.
Forget faffing about with laces! One of the best things about these boots is that they are quick to pull on and fasten with a zip and Velcro strap. When you get home after being outside, you just want to kick off your boots, and these muckers are just as easy to take off.
One thing to note is that these boots tend to run large, so it may be better to order a size smaller or wear thick socks. They are also good for a wider foot.
The budget friendly price means you get quality women's snow boots that are durable and comfortable, without paying a fortune.
---
München-ST Gore-Tex Women's Snow Boots
These gorgeous München women's snow boots off plenty in style and performance in cold weather.
The Gore-Tex membrane means they are both waterproof and breathable, so you can spend many happy our outside without getting damp feet. The warm lining will keep your feet warm in minus temperatures, often without the need for thick socks.
If you have a wider than average foot, these boots have a generous width at the toe. Elsewhere the fit may be snug, but that is what adds to the sleek profile of the boot.
Available in black or brown, these are a trendy pair of snow boots that will look great on a chilly school run, but are also comfortable to wear on snowy walks and other activities outdoors.
---
Men's Snow Boots
Your turn, men!
Sorel Men's CARIBOU Snow Boots
Sorel Caribou men's snow boots are famous for good reason! Designed for temperatures as low as minus 40, they are warm, waterproof and extremely durable. They look pretty good too!
The sealed foot area prevents water leaking in, while the removable inner sock lining keeps your feet warm in minus temperatures. They perform well in slippery conditions, and have grippy soles with deep tread.
While these boots may be too heavy to go hiking up mountains, they are great for walking a few miles in the snow, or if you have to stand or work outside.
One of the main points about these boots is that they run large. This is great if you have a wider foot, but even them they may still be big. It is recommended that you measure your foot, and choose the corresponding size shown on the sizing chart.
There are 4 colours to choose from, so you can pick your preference.
---
Sorel Men's Conquest Winter Boots
Another fine example of men's snow boots by Sorel, the Conquest boot have a different look to them with added features that perform well in cold conditions.
400g of Thinsulate Ultra insulation provides warmth, and the extra strap around the back of the boot means you can adjust the fit.
The rubber outer sole gives good grip in snow and ice, and the toggle at the top can be adjusted to prevent snow and debris from entering the boot.
Lightweight enough for hiking as well as standing or working out in the cold, these men's snow boots are good for long-time wear.
While the Sorel Caribous boots tend to run large, the Conquest boots are reported to be on the smaller side. Again, it is best to measure your foot and go by the sizing chart provided.
---
Merrell Men's Thermo Snowdrift Snow Boots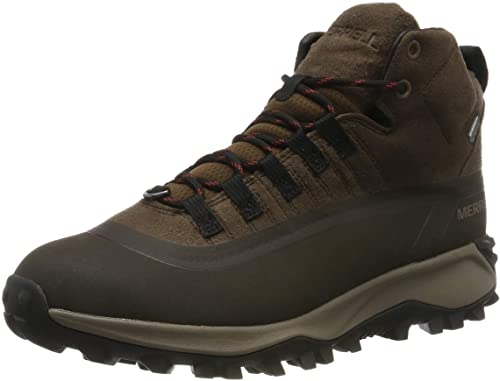 Merrell are a brand that is renowned for its quality footwear, and these Thermo Snowdrift boots are as comfortable as they come.
Fitting more like a trainer than a boot, the flexibility means the move with your foot so you can wear them for hours. This makes the fantastic for winter hiking.
The waterproof leather upper and impermeable membrane keeps water out, yet it is also breathable so you won't have sweat building up inside.
It's annoying when you get bits of twigs or stones in your boots, but these boots help prevent that by the bellow-style tongue.
The clever design is complete with a heat-reflecting insole that sends your body heat back towards your feet. With insulation going over the toe, your feet will be warm in minus temperatures.
With great traction and grip, you can have peace of mind when walking on icy or muddy surfaces.
All in all, it's another superb men's snow boots by Merrell that offer good value for money.
---
Columbia Men's Bugaboot Plus
These Columbia Bugaboot Plus men's snow boots bring together style and technology to create a boot that can handle extreme weather.
The waterproof upper with taped seems does a great job of stopping water getting in, while the interior is breathable and allows sweat to escape.
The rubber sole give excellent grip on rocks and other slippery surfaces, including ice and snow.
The specs say these boots have 200g of insulation that will keep your feet warm in temperatures down to minus 32. However, you get the odd report of this not being the case. If you just want a pair of boots to keep you warm in the British winter, rather than the Arctic, then these are a good option.
If you want to go for long hikes, or are spending lots of time outdoors, the Columbia Bugaboot provides a cushioned insole to keep a spring in your step!
---
Groundwork Men's Mucker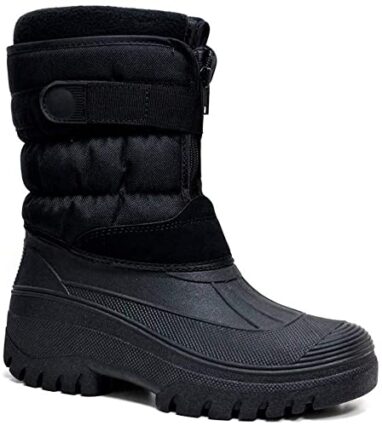 Looking for a budget-friendly pair of boots that are waterproof and warmer than wellies? The Groundwork Men's Mucker boots are the answer!
The bottom half of the boot is waterproof, while the nylon uppers give flexibility and comfort. The thick faux fur lining keeps your feet warm, and are removable so can be washed easily.
These are great boots for yard or stable work, yet are also light enough to wear on winter walks. The sole provides good grip on muddy surfaces, ideal for that slush and mud combo!
Some users have reported these snow boots need wearing a few times to break them in before they get used to them, but that is the case with many brands of boot.
Easy to put off and kick off, these boots offer all the warmth and convenience you need at a low price. Available in black and navy.
---
A good pair of snow boots will last you many winters. You might also like to read about waterproof hiking jackets for men and women, as well as a guide to hiking boots for wide feet. Make the most of the great outdoors and stay warm this winter!