This healthy, dark green nettle soup is a fabulous snack or hearty lunchtime warmer. You can also make plenty and freeze it to enjoy whenever you want. Stinging nettles or dead nettles are good for this recipe.
Nettles are really good for you. They have long been used in traditional medicine and have many health benefits. From relieving pain, reducing inflammation, and improving digestion; nettle soup is one of the best ways to enjoy these benefits.
Nettles contain lots of vitamins and minerals, and have more iron than spinach! What's more – they are absolutely free to gather.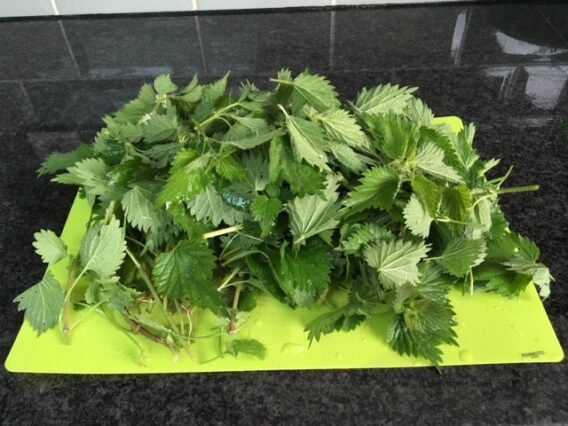 Remember to wear gloves while picking nettles. You can read more on how to identify and gather nettles here. Also, don't forget the top foraging rule… steer clear of contaminated areas such as where dogs might do their business, or next to roadsides.
Once exposed to heat, all the sting disappears from nettles. So, go out foraging and enjoy this nettle soup recipe!
Ingredients for Nettle Soup
Wild nettles tops (about half a carrier bag full)

1 onion

1 litre of vegetable stock

½ litre of boiling water

long grain rice

Salt

Black pepper

A little olive oil

Sour cream (optional)
Method
Using gloves, rinse the nettle tops under a tap and set to one side.
Put a saucepan on a low heat, and add a dash of olive oil. Finely chop the onions and add to the pan, and cook until soft. Pour in the rice and vegetable stock and bring to a simmer. Cook until the rice is tender.
Add the nettles. You don't want to add them too soon, otherwise some of the nutrients will be lost in the cooking process. At this point you might have trouble getting the lid back on your saucepan, but the nettle leaves soon wilt down. When they are more manageable, stir them through the rice. Add the other half litre of boiling water and simmer for another minute or so.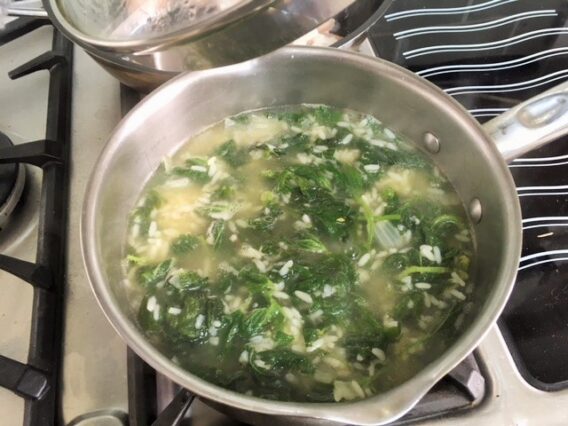 Remove from the heat and blend, either using a hand blender or a food processor, until you get a smooth consistency. Taste your soup and add salt and pepper. Blend again to mix it in. Keep tasting and blending until you have the seasoning just right for your palate.
This nettle soup can be enjoyed with a swirl of sour cream, or a drizzle of good olive oil on top. You can even sprinkle a few dead nettle flowers for a splash of colour!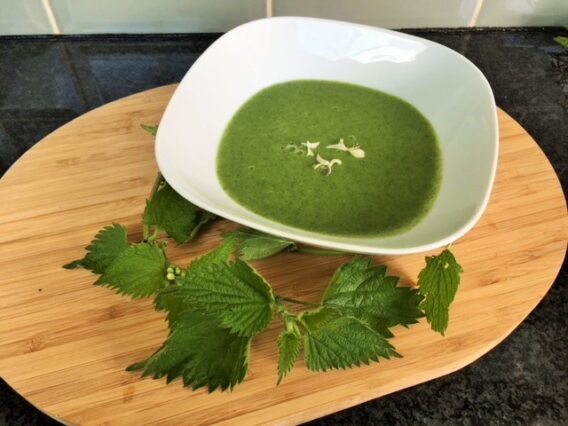 Nettle soup is just one delicious recipe you can try with nettles, and once you start its hard to stop. Stir fresh nettle tops into a casserole or stew, add them to your gravy for your roast dinner, or swap spinach for nettle in a cheesy dish.
As long as nettles are exposed to heat for a minute or so, they will not sting. The options are endless for this nutritious, free wild green!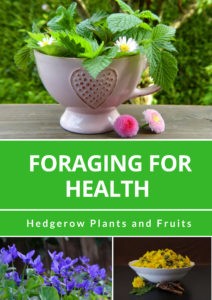 This recipe is from my book Foraging for Health – Hedgerow Plants and Fruits.
Other recipes include wild flower truffles, dandelion and goat's cheese tart, nettle beer, wood sorrel hummus.
If you like to know the medicinal benefits of common wild plants, as well as few tasty recipes, check it out!
Do you have a favourite nettle soup recipe? Please share!