Finding the best walking boots for wide feet can be especially tricky. Squashed toes and blisters can lead to pain, spoiling your time on the trail. If you enjoy walking and hiking, you don't want to be held back due to ill-fitting footwear. Those of us with wide feet need plenty of room in order to allow toes to spread out, and maybe a bit of room in the ankle too – and that means extra wide walking boots!
Investing in the right footwear makes all the difference to your comfort levels when out on a trail. However, getting the right hiking boots for wide feet comes with many questions, such as:
'Do I need to break hiking boots in? Or will they always be too tight?'
'I can't find the perfect wide hiking boot, will normal boots be ok if I loosen the laces?'
If you have wide feet, or even bunions, don't worry! You can certainly find the right wide fit outdoor boots for you!
A good pair of boots will last a long time and make hiking a joy. You are making an investment that should last for many miles and years, so don't settle for any walking boot that doesn't fit properly! If you have wide feet, you definitely need wide fitting walking shoes or boots. Otherwise, you are just asking for blisters.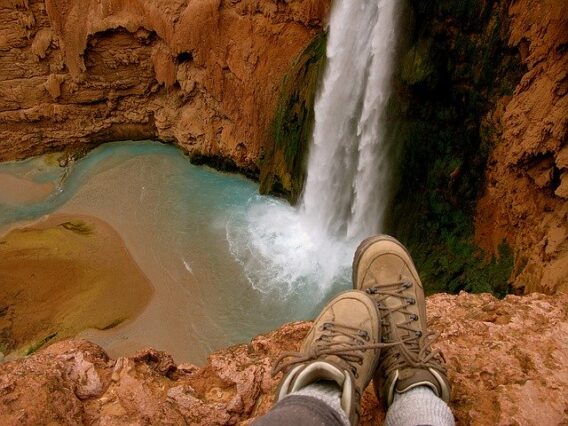 Buying the Best Wide Fit Walking Boots
Quality hiking boots that fit correctly is absolutely essential to comfort on the trail. Ill-fitting footwear can lead to a whole host of issues for you feet, as shown by this study. So, don't let your footwear spoil your hike, or your foot health! Here's a guide on what to look out for when choosing wide fit hiking boots:
Correct fit – it is normal at first for walking boots to feel little tight. As they are new, the materials haven't yet had a chance to soften with wear. However, if your toes feel squashed in any way, opting for wide fit walking shoes can make all the difference.
Make sure your feet do not hang over the sole. While the uppers may adjust to your feet, the sole won't widen. It should be a surface that the balls of your feet can stand on without spreading over the edge. If they do, you need to look for extra wide width hiking boots
Fit for the Job – what type of walking will you be doing in your boots? Do you mainly enjoy easy walks of just an hour or two on well managed paths? Or are you an intrepid explorer who like nothing more than leaping over rocks and scrambling up rugged terrain? There are different wide fitting walking boots for each type of terrain.
Foot and Ankle Support – even on the best paths there can be loose rock or slippery gravel or shale. Good wide fit trail boots will support the ankle, while the sole will be flexible for comfort and have good grip.
Waterproof – if you need to walk whatever the weather, you don't want to have your outing spoiled by leaking boots. Go for hiking boots that are waterproof, such as those with Gore-Tex. However, over time you may need to spray your hiking boots with a waterproof layer to help keep your feet dry.
Ready to see the best walking boots for wide feet? Let's start with the men.
Best Men's Walking Boots for Wide Feet
Hi Tech Banderra II Wide Fit Hiking Boot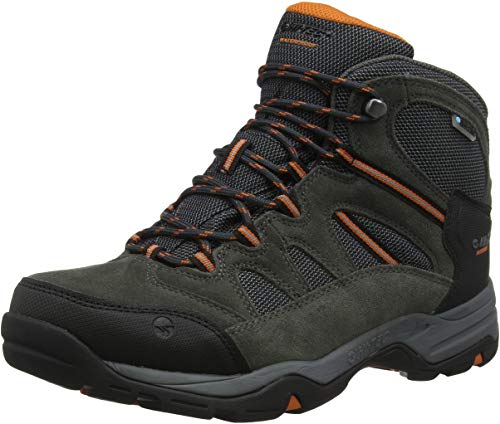 HiTech are a brand that has been around for years and always provides great value for money. But, even though they are a budget option, you will be able to get plenty of miles out of them. The best wide fit hiking boots for men by this brand is the Banderra II Wide Fit Hiking Boot.
These boots are great for weekend walkers. Yet, if you are increasing your miles, need hiking boots to wear every day or, additionally, want to test yourself on rocky terrains, you probably should choose something more robust.
Features:
These wide fit trekking boots will

accommodate feet as wide as an EE fitting, ensuring that your are comfortable accommodated, no matter the size!

Water resistant, with dry-tech membrane to keep your feet dry, no matter the weather.
Compression moulded EVA midsole for cushioning and comfort.

Lightweight, so easy to wear all day.
---
Meindl Veneto GTX Wide Fit Hiking Boots
A steeper price, but worth every penny, the Meindl Veneto GTX wide fitting hiking boot is for the enthusiast and professional hiker alike.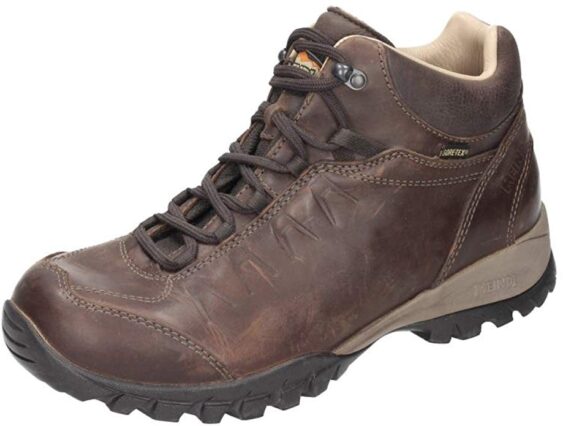 A brand that is well-respected in the hiking world, with these boots, you will save money on buying cheaper pairs as they wear out. These are boots that are made to last!
Reviews of these hiking boots say that there is enough width for wide feet, even with a thick pair of socks. This adds to your comfort and you can wear decent padding to prevent blisters, especially if you're putting in lots of miles in a day.
Waterproof with Gore-Tex lining, you can hike in wet conditions and stay dry. Whether you see yourself in the mountains, hiking rocky rivers, or enjoying miles of coastal paths, you won't go wrong with wide fit walking boots by Meindl.
Features:
Wide fitting – room for your toes to spread.
Lightweight – walk for miles without being weighed down by your footwear.
Comfortable – enjoy your hiking without thinking about your feet!
Waterproof – go out in all weathers and your feet will stay dry.
Look great – stylish design means you feel great in your boots!
What more do you want in a wide fit walking boot? Check for the latest price
---
KEEN Targhee II Wide Fit Hiking Boots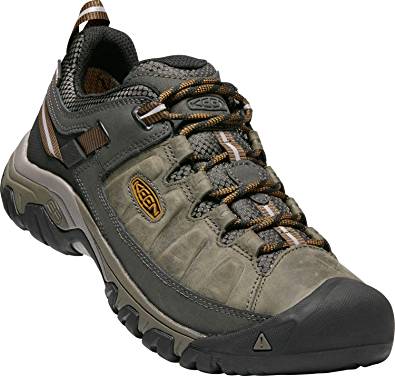 This lower cut style of wide fit walking shoes fits more like a comfortable pair of trainers, but also offer all the support your feet need when out on the trail.
Again, these are on the expensive side compared to others, but if you are looking for a quality hiking boot that will keep wider feet comfortable, then that's worth its weight in gold!
The trainer-style gives you more flexibility in the ankle, as well as being more lightweight than boot-style. This makes them ideal for summer hikes, and grass, stone or mud trails.
Wide width walking shoes are perfect for even ground. However, if you intend to hike rough terrain, a boot-style may be a better option in order to give your ankles support.
Features:
Waterproof, with a breathable membrane to allow sweat vapour to escape.
Gum rubber sole with 4mm multi-directional lugs to provide grip on all terrain.
Contoured heel lock – keeps your foot secure minimising friction and blisters.
Excellent comfort and durability.
---
Skechers Relment-Pemo Wide Fit Walking Boots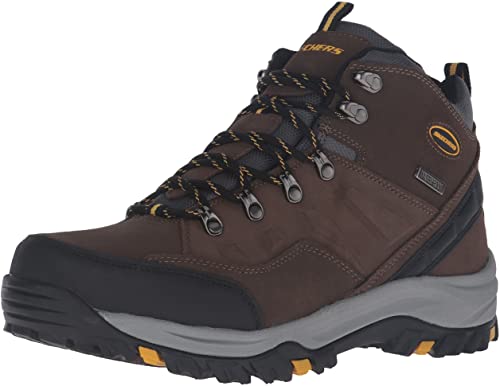 Skechers boots aren't a brand you'd usually think of when looking for wide fitting hiking boots, yet this pair has thousands of positive ratings for wide feet.
Wet grass, puddles and mud are no problem thanks to the waterproof suede upper, while the rubber high traction grip means you won't slip.
Memory foam insole means you can walk for miles without fatigue, and the high tops give great ankle support.
With 5 colour options to choose from you are spoilt for choice. Coordinate with the rest of your hiking gear if you feel inclined!
Skechers relaxed fit are great for wide feet, and they also come in half sizes to boot! Check the latest price.
---
Hi-Tech Storm Wide Fit Hiking Boots
Another fantastic option by Hi-Tech, these Storm wide-fitting hiking boots not only look the part, but they perform well too.
Reviews say these boots are very comfortable, can be worn with two pairs of socks can be worn, and they are waterproof. You will certainly be able to put the miles in with these hiking boots!
With suede and mesh upper, and Dri-Tech waterproof membrane, these boots allow your feet to breathe while keeping them dry. The rubber sole provides all the grip you need out on the trail.
If you are looking for wide fitting hiking boots that look good, are comfortable and made to last, these Hi-Tech Storm boots are a budget-friendly option you be pleased to own. Check the latest price
---
Best Women's Walking Boots for Wide Feet
Timberland Women's White Ledge Boots for Wide Feet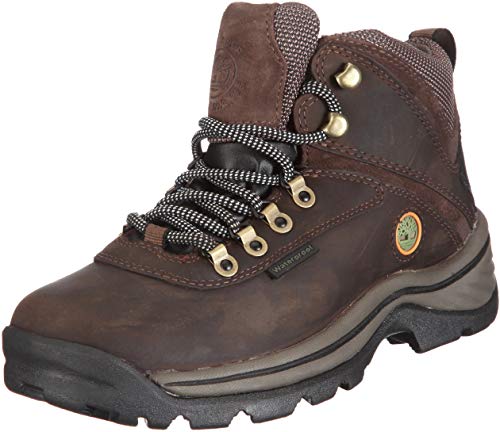 These Timberland walking boots have some great reviews, especially for those with wide feet.
These are particularly sturdy boots that are great for walking holidays, weekend walkers, and shorter everyday walks.
With good grip, these boots perform especially well in wet conditions, and on rocky terrain too.
No matter where you walk, these hiking boots can be relied upon to keep your feet dry and supported.
Features:
Waterproof, gum rubber sole for comfort and grip in all weathers
Durable, full-grain leather
Stylish design
Roomy, comfortable fit.
---
Regatta Women's Holcombe Low Rise Hiking Boots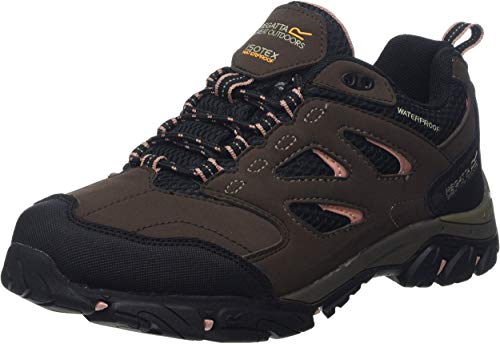 Regatta is a brand known for its quality outdoor gear, and these wide fit walking shoes are no exception. The reviews say it these are especially great if you have a slightly wider foot, although it is recommended you go up a size bigger.
Being waterproof, these wide fit hiking shoes also give a two-pronged defense against puddles, dew, and rain, ensuring your feet stay dry and comfortable throughout your outdoor adventures.
Features:
Membrane blocks any moisture from entering the shoe.
Water-Resistant Technology, so water wicks away from the surface of the shoe
EVA sole for comfort – No matter what the terrain, your feet will be supported.
Lightweight – Wide fit hiking footwear needs to be light on the feet, and with these you can walk for miles without feeling weighed down by your boots.
---
Northwest Territory Women's Peak Wide Fit Hiking Boots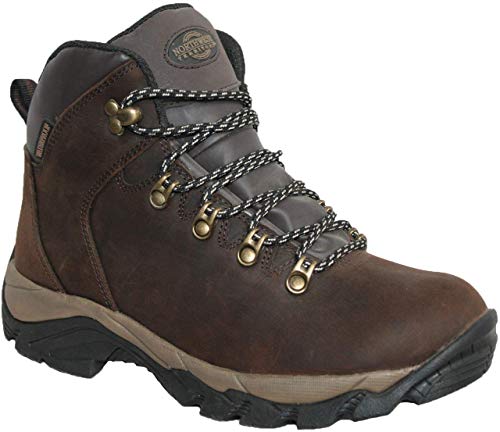 Another awesome pair of walking boots for wide feet, the reviews speak for themselves.
These stylish boots are fully waterproof, so will allow you to hike from dawn til dusk! You'll need a map and some sandwiches, because you will want to put some long miles in with these boots.
If you are looking for wide fit walking boots that are also durable, waterproof and comfortable, these are a great option.
Features:
Gum rubber sole provide excellent grip on various terrains.
Breathable membrane allows your feet to breathe naturally, keeping them cool and comfortable during your outdoor explorations.
---
Grisport Hurricane Hiking Boots for Wide Feet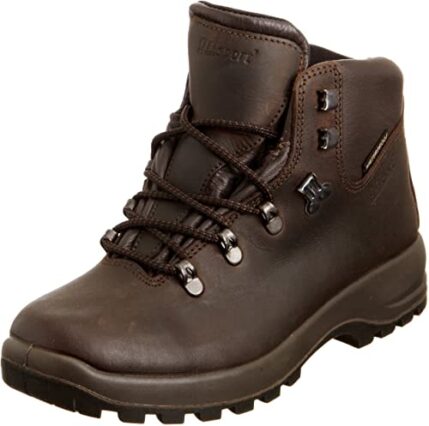 These stylish Grisport hiking boots are supportive and roomy enough in the toe to accommodate wider feet, and proof of this can clearly be seen by the rounded shape to the toe box.
The durable, waxed leather uppers and the Spotex waterproof, breathable lining keeps your feet dry in the wettest conditions, while the Vibram rubber sole gives good grip and flexibility.
Great for any outdoor conditions, there's certainly no limits to your hiking adventures in these boots.
Made in Italy in a solar powered factory, these hiking boots are made to last. Some users report that they need a couple of walks to be fully broken in, but after that they are some of the best wide fit walking boots for women! Check the latest price.
---
The Verdict on Buying the Best Walking Boots for Wide Feet UK
When you have some good walking boots for wide feet to choose from, how do you know if you're making the right decision? There is a range of wide fit walking shoes out there, so the best advice is to read all the reviews thoroughly before buying. This will make sure that the boots fit your feet and perform well for other aspects too.
If you are looking especially for winter hiking boots, this guide on the best snow boots for men and women has some wide-fit options that will keep your feet warm in freezing temperatures. Finding wide fit walking boots UK, or for winter holidays, has never been easier! Similarly, you might also like our guide to the best wellies for wide calves.
If you have wide feet, finding walking boots that fit well is a good dream come true. So, make the most of your new feet and get out there and explore!
If you know any other brands of wide fit hiking boots, please share in the comments!