It's not often people look for walking boots for narrow feet. But, for some, even wearing a normal fit hiking boots with thick socks will see feet slipping around inside… and that means blisters and uncomfortable walking conditions.
You can spend a long time researching and reading reviews of hiking boots for narrow feet, so this guide has done the job for you! The walking boots here either come as a narrow fitting, or the reviews say they are great for a narrower foot.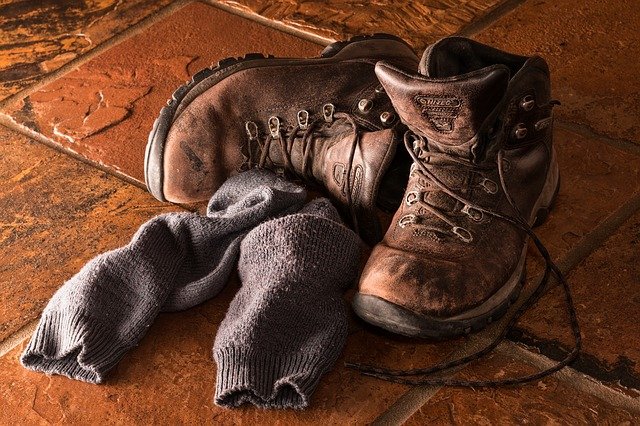 A well-fitting pair hiking boots will keep narrow feet comfortable, so you can get on with trekking up those hills, walking your dog, or planning that walking holiday you always dreamed of!
What to Look for in Narrow Width Walking Boots
Getting the right fit is important when choosing a pair of hiking boots. Here some top tips…
Lacing – lacing your hiking boots properly will help stop your foot from moving around inside. Experiment with different lacing techniques to find the right style for you. For high rise hiking boots, look for lugs that help tighten around the ankles, and make doing laces up easier.

Make sure there are no gaps around you heel. A little room is ok, but not so that your feet might slide.

Room in the toe – although your fee may be narrow, you don't want your hiking boots to be tight across the toes or ball of your foot.
So, let's dive into some of the best walking boots for narrow feet, starting with the ladies.
Narrow Width Walking Boots for Women
Columbia Canyon Point Hiking Boots
These stylish Columbia Canyon Point hiking boots are a sturdy pair that will keep your feet warm and supported on any terrain.
Whether it is for daily dog walks and weekend hikes, these narrow walking boots will keep you comfortable.
They are lightweight, so you won't feel like your clomping around in heavy boots. The cushioning is excellent and the rubber sole gives great grip on most surfaces.
While these boots are described as waterproof with an Omni-Tech membrane, a few reviewers have ended up with damp feet. If you walk through puddles, your feet may get wet. However for average terrain that include a bit of mud and damp areas, these boots should not let in water.
These Columbia boots are good all round hiking boots for narrow feet, and perform well for average use. If you're looking for something to use for multi-day hikes, where you will be walking long distances each day, something a little more robust may be a better option.
---
Salomon Bekken Gore-Tex Narrow Fit Hiking Boots
Let's just take a moment to admire these lovely looking boots… Salomon Bekken walking boots are known for durability and quality, and they have special narrow fittings in some sizes!
Reviews also say that all sizes are good for feet that are narrower than average.
The Gore-Tex membrane keeps your feet dry, so you can walk through wet grass, step in puddles, or go out in the rain.
The Contagrip outsole provides excellent grip and will last for years of hiking. The insole is Ortholite, and offers comfortable cushioning for your feet, while allowing skin to breathe.
For narrow fit hiking boots that delivers on performance, Salomon Bekken are some of the best on the market.
---
Berghaus Supalite Hiking Boots
As the name suggests, the Berghaus Supalite hiking boots are very lightweight, weighing less than a kilo per pair. Made from leather, they are durable and perform well for any kind of hiking.
Good old Gore-Tex means your feet stay dry whatever the conditions. There is a shock-absorbing EVA midsole, and Ortholite footbed and memory foam detailing will keep your comfortable for hours of hiking.
The rubber Vibram sole gives you confidence when on slippery or loose ground, so you can scramble up mountainsides, rock hop over streams, or go for that muddy track through the woods.
While the shoe width is described as normal, reviewers have commented that they are a narrow fit so they are work checking out.
---
Berghaus Explorer Hiking Shoes
Another great pair of hiking shoes from Berghaus, the Explorer is a light but sturdy shoe with Gore-Tex lining that will keep your feet dry in wet conditions.
Sometimes, you just don't want the faff of putting on a full hiking boot, and shoes are quick to put on when on the go. These hiking shoes are ideal for shorter day hikes, daily walks, or pop them on for a wet school run!
The Vibram sole and tread gives excellent grip underfoot, and the Ortholite footbed will keep your feet comfy for miles.
While the width is shown as 'normal', reviews mention they are ideal for a narrower than average foot.
Check the latest price.
---
Men's Narrow Fit Walking Boots
Finding narrow fit hiking boots for men is trickier than finding there for women. Perhaps is it because men tend to have larger feet overall. So, as of now there are two good options, yet research continues!
Adidas Terrex Hiking Boots
These are lightweight, waterproof walking boots by Adidas.
Not usually a brand you'd associate with hiking, but the Terrex hiking boots are great for trails, paths and fields, as well as more challenging terrain.
The Gore-Tex lining means your feet stay dry but can also breathe, and the rubber sole provides grip in slippery or loose ground. Durability is also important if you want to do some long mileage, and the sole is high resistance and built to last a long time.
These hiking boots look stylish and come in two colours. In reviews, buyers have described the foot as narrow and snug. They also come in half sizes.
---
Northwest Territory Hiking Boots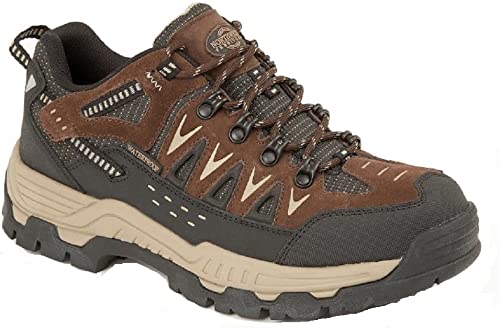 These Northwest Territory hiking shoes are great value for money. Not ridiculously expensive like some other brands, yet deliver on performance.
Waterproof, comfortable and with rubber soles, you will want to put in the miles when wearing these hiking shoes.
While the description shows the width and medium, reviews say they are best for people with a narrower foot.
---
Finding hiking boots for narrow feet is not easy, and with many hours of research needed to find the ideal pair of boots. If you have any brands you recommend, please add to the comments.
There's also a post on hiking boots for wide feet, so if you are buying boots for your wide-footed partner, or someone else, check it out!