Have you heard about waterproof socks? We all know that uncomfortable feeling when our shoes or boots let in water. That squelchy, cold foot you are left to struggle with for the rest of your hike and consequently the extra risk of blisters forming).
Maybe you haven't really thought about waterproof socks because you have some good waterproof hiking boots, and that situation is covered. Sadly though, sometimes even the best waterproofed walking boots, and even gaiters, can let us down.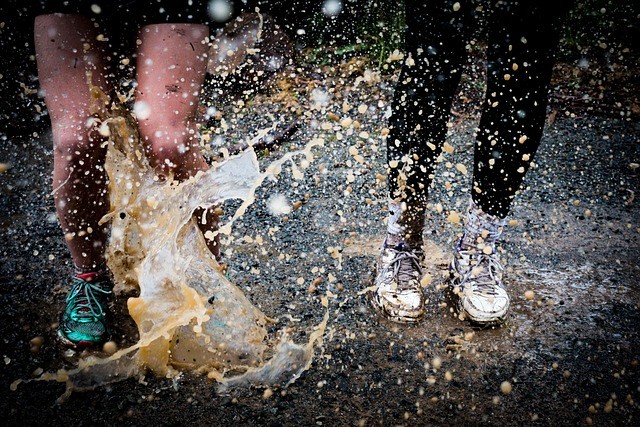 From water going over the top of the tongue level from an unexpectedly deep puddle, to that extra hike when your boots really should have had a respray of water repellent. Sometimes, a waterproof boot just seems to let it in somewhere (you can never find out where).
The next logical answer to a wet foot is to carry extra socks on a hike. But then you have the issue of a nice warm dry sock going into a saturated boot, which will get wet very quickly. The answer, and dare I say "game changer" for your next time out on the trail is waterproof socks.
Though not as cheap as regular socks, waterproof socks will leave you free to cross a stream, or plough through deep snow, without the fear of your boots letting you down. That's worth more in comfort and peace of mind that you can ever put a price on!
What are waterproof socks and do they work?
Waterproof socks are made with multi-layered materials. This is usually three layers, with an impermeable membrane sandwiched between a knitted material that is similar to your standard socks.
Most manufacturers produce them with a variety of blends, including Polyester, Nylon and Merino Wool. This gives them similar comfort as your existing socks, but with the hidden waterproof benefit within.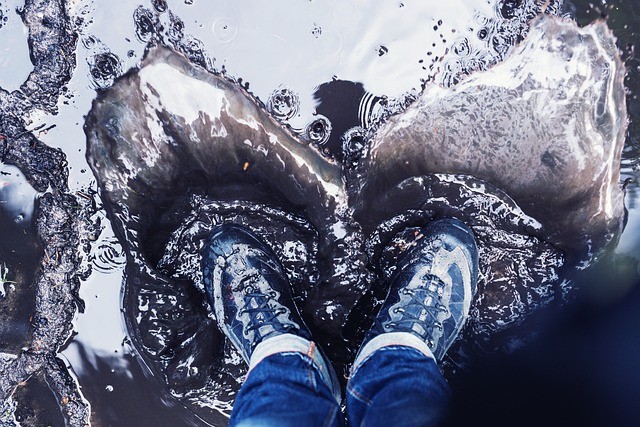 Will waterproof socks make my feet sweaty?
It's natural to think that waterproof foot coverings will keep sweat inside, but that is not the case. The best quality socks are built with materials that have tiny holes, large enough to let vapour out and your feet to breathe, but small enough to stop water droplets getting through.
Waterproof socks can be slightly thicker than your standard socks, and are ideally worn in conditions when you know there is potential to get wet. They are not best for a dry walk in the middle of summer, when you may sweat more than usual.
Choosing the right waterproof sock for you
There are a few considerations when it comes to purchasing waterproof socks. These are the external temperatures, your specific activity such as hiking or trail running, as well as sock length and size.
External Temperature – When purchasing waterproof socks, you will sometimes come across different temperature usages, listed as cold weather, warm weather or all weather. The cold and all weather types can use materials like Merino wool, acrylic and polyester blends in different ratios. The warm weather socks are made with materials like bamboo rayon, for this reason they are more appropriate for the warmer conditions .
Sock Length – This all depends on your personal preference and usage, socks generally come in the usual lengths of ankle, mid and even knee high sock lengths.
Sock Size – Most manufacturers offer sizes as small, medium, large and also extra large. It's therefore recommended to look at the manufacturers chart to find your specific shoe size.
Extra Features – Look for features such as zonal elastication in order to reduce blisters, foot-bed padding to help with pressure point build ups and, like other types of sock, flat toe seams to prevent rubbing.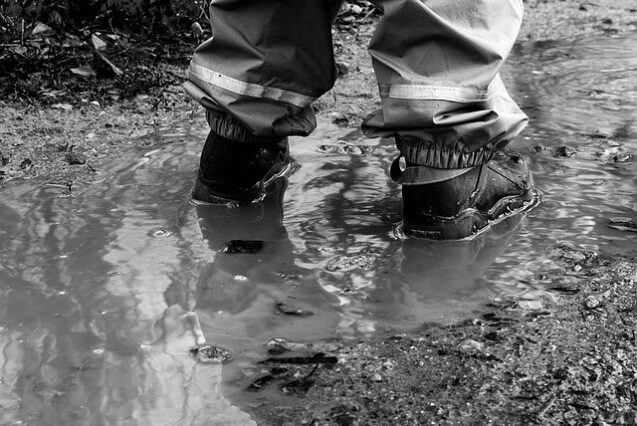 Best Waterproof Socks
Let's have a look at some of the best waterproof socks available to buy. These include a mixture of brands, temperature types, as well as length, to give you a variety of options to chose for your next outdoor adventure.
SEALSKINZ Waterproof Cold Weather Mid-length Sock
For more than 25 years, Sealskinz has been a leader in making socks, gloves, and hats for men and women.
These are handmade in the UK, are manually tested for waterproofness, and will keep your feet dry in all conditions.
Three-layer design that is waterproof and breathable and provides warmth and waterproofing.
Merino wool lining for comfort, insulation, and moisture management.
Additional support through zonal elastication. Comfortable flat toe seams reduce rubbing and blistering.
Comfortable and stretchy, thanks to a close fit and four-way stretch.
Four colours to choose from.
Great all round waterproof socks for all kinds of weather! Check the latest price.
---
OTTER Waterproof Socks
Otter are a UK brand that make waterproof clothing for outdoor adventures. These socks are waterproof, breathable, and will also keep your feet dry in all weathers and conditions.
Three layer construction made of 74% hard-wearing polyamide and colourfast yarn.
Quick drying.
Breathable, allowing water vapour to pass from the foot.
Designed to fit snugly, encouraging heat from the foot to build pressure and push vapour out.
5 colour options.
Great for a variety of outdoor activities, Otter socks will keep your feet dry no matter what you do. Check the latest price.
---
SEALSKINZ Waterproof Warm Weather Mid-length Socks
Another quality pair of socks be Sealskinz, these are for warmer weather.
Three layers of construction make these socks waterproof, comfortable and durable.
Bamboo lining for extra insulation, as well as moisture control.
Zonal elastication brings added support and superior fit.
Four way stretch for comfort and close fit.
Flat toe seams prevent rubbing and additionally helps protect against blisters.
Waterproof lining does not degrade with washing, so they will stay effective no matter how many times you put them in the washing machine.
Overall, these socks are a great lightweight option for warm weather, and will keep you feeling dry and comfortable whatever the activity. Check the latest price.
---
OTTER Waterproof Cold Weather Knee Length
These Otter socks are knee-length and feature Merino wool for extra warmth in cold weather. Perfect for waking over wet fields, muddy paths and more.
100% waterproof, breathable and warm, thanks to the Merino wool lining.
Padded heel, toe and foot-bed protect feet from friction and also reduce the risk of blisters.
Zonal elastication for added support.
Four way stretch for a close, comfortable fit.
Knee length sock offers protection higher up the leg.
These knee-high outdoor socks are great for outdoor adventures, including hiking, trekking, mountain biking, fishing and walking your dog. Check the latest price.
---
ArticDry Waterproof Extreme Cold Socks
No one like freezing toes! These ArcticDry socks are designed in the UK, and have been tried and tested by pro athletes and featured on Channel 4. They make the perfect sock for hiking, golf, mountain biking and also working outdoors in cold temperatures.
Waterproof membrane barrier, alongside a 3-layer blend of Nylon, Spandex, Merino Wool & Coolmax, stopping your feet from becoming cold and keeping you dry.
Superior comfort and warmth.
Easy to Maintain, simply wash with lukewarm water and soap.
Able to stretch without damaging the integrity of the waterproof liner.
If you are looking for socks that are also great in cold temperatures, these are for you! Check the latest price.
---
DAKY Phantom Waterproof Mid-calf Socks
The Daky Phantom Plus socks mean you no longer have to worry when walking through soggy ground. Your feet will stay dry and warm, no matter where you go.
Made with a blend of cotton, Merino wool, nylon, and elastane, which forms a fabric that repels water, yet is also breathable.
Stretchy, so your feet have complete freedom of movement.
Anti-bacterial properties and an external toe seam help to prevent blisters and nail damage.
Fantastic waterproof socks for all seasons. Check the latest price.
---
SEALSKINZ Waterproof All Weather Ankle Length Socks
Ankle length all-weather socks by Sealskinz.
Exceptionally breathable and impermeable.
Suitable for warmer and wetter climates.
Bamboo lining for comfort and moisture management.
Machine washable.
No-friction hand-closed flat toe seams.
Amazing four-way stretch for excellent fit and also anti-blistering.
Handmade and waterproofness tested in the UK by people who care about quality.
Overall, these are great for outdoor sports in warmer weather. Check the latest price.
Are you ready to try Waterproof Socks?
Maybe now is the right time to invest in some waterproof socks for your next adventure. These socks may seem a little pricey compared to standard socks, but they could really make the difference to your foot comfort levels and take the worry out of that wet hike or run. Why rely solely on your boots, when this small addition gives you a second skin and a second chance when enjoying the great outdoors?
If your looking for waterproof socks UK, whether your looking for running socks or hiking socks, these options have plenty of benefits for your feet.