Finding the right pair of trainers for wide feet or conditions like plantar fasciitis can often be challenging. Every foot is unique, and it's essential to find footwear that provides proper support, cushioning, and stability. Wide feet and plantar fasciitis are common foot conditions that require special attention when choosing trainers. Understanding the characteristics and needs for each condition will guide you in making the right choice.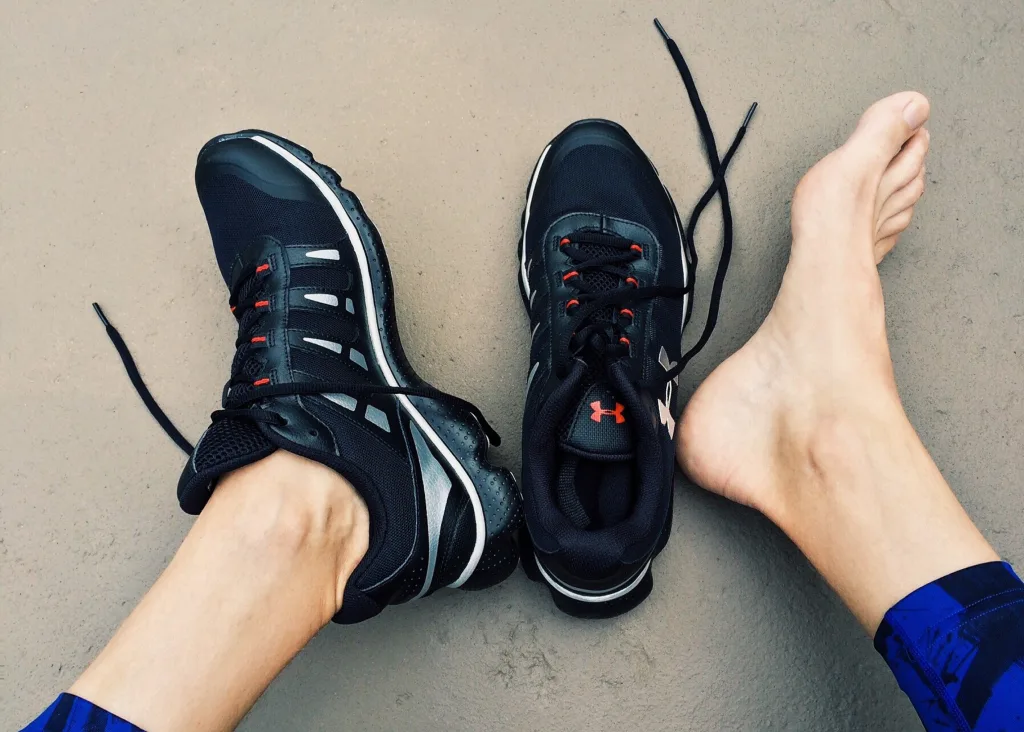 Here we'll explore a bit more about trainers for wide feet, as well as some of the best fitness shoes for people with foot conditions. The best trainers for wide feet require the necessary width and stability for a comfortable fit. Consider the following tips when searching for trainers:
Look for brands that offer wide shoe sizes or have specific ranges for wider feet.
Check for features like wide toe boxes to accommodate the natural shape of your feet.
Consider trainers with adjustable lacing systems or straps to provide a secure fit around the midfoot.
Choose shoes with adequate arch support to prevent overpronation, which can lead to discomfort and foot pain.
Trainers for Plantar Fasciitis
Plantar fasciitis is a condition that causes pain in the heel and arch of the foot. To find trainers that ease the discomfort associated with plantar fasciitis, keep these tips in mind:
Look for trainers with excellent cushioning in the heel and arch areas to absorb shock and reduce strain on the plantar fascia.
Consider shoes with built-in arch support to maintain proper foot alignment and reduce excessive stretching of the plantar fascia.
Look for trainers with heel stability features, such as firmer heel cups or heel counters, to provide added support and prevent overpronation.
Consider trainers with removable insoles so you can replace them with custom orthotics if recommended by a healthcare professional.
FitVille: Revolutionising Foot Health with Wide Shoes
FitVille is a renowned global footwear brand that is dedicated to enhancing foot health and promoting positive change through movement. With a strong focus on designing wide shoes with comfort in mind, FitVille aims to address the unique needs of individuals with wider feet and foot problems such as plantar faciilitis.
Fitville Mens Extra Wide Fit Trainers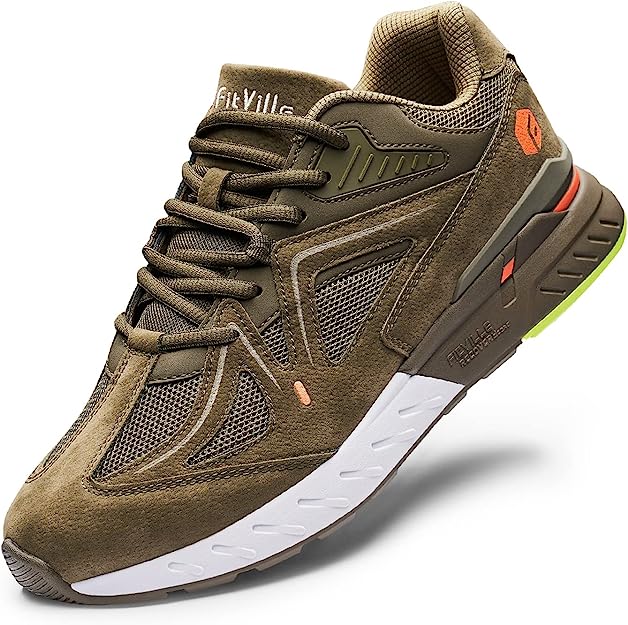 FitVille's wide-toe-box and high-instep design has been carefully crafted to meet the specific needs of wide-footer individuals and those suffering from common foot problems such as plantar fasciitis, flat feet, bunions, and hammertoes.
This unique design provides ample room for toes to spread naturally, allowing for a more comfortable fit and reducing pressure on sensitive areas.
One standout feature of FitVille's footwear is their patented PropelCore sole. This innovative sole technology delivers exceptional support and cushioning, so you can enjoy long-lasting comfort, whether you're on your feet all day or engaging in various physical activities.
The rubber sole offers reliable traction and stability on various surfaces, reducing the risk of slips and falls. It provides a secure grip, ensuring confident and stable movement even in challenging conditions.
FitVille's lace-up closure allows for a customizable and secure fit. You can adjust the laces to suit your comfort needs and ensure the shoes stay securely in place.
---
Fitville Wide Fit Running Trainers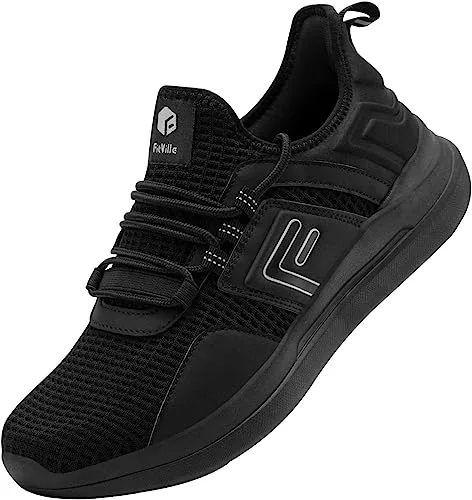 FitVille is here to liberate your running toes with their revolutionary wide toe box design. This design allows for a natural stretching of your feet to create the perfect fit for running.
Air Cushioned Heel – With FitVille's air cushioned heel, you'll float through your day with unmatched cushioning and shock absorption. Say goodbye to joint stress and hello to comfort.
Ergonomic Insoles with Arch Support – meticulously designed insoles combine supreme support with cushioning and arch support. With each step, you'll feel the perfect balance of stability, reducing strain on your feet and promoting proper alignment.
Engineered Breathable Upper – FitVille's engineered breathable upper brings unrivaled comfort by optimising air circulation, leaving your feet dry and odour-free.
---
Men's Extra Wide Stride Core Gym Trainers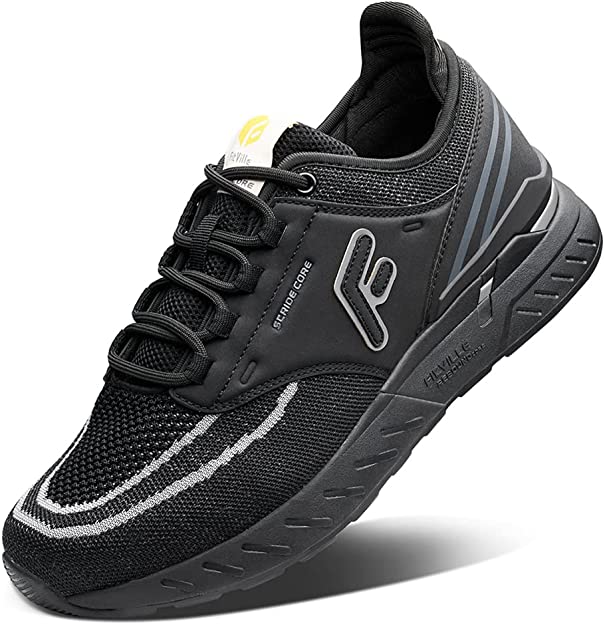 Fitville Stride Core Wide Fit Trainers, are a versatile and supportive footwear option for those with wide feet and foot issues.
These trainers have great reviews for their comfortable fit, although some buyers have noted that they run larger than typical UK sizes. To ensure a more comfortable fit, we recommend choosing a half size smaller than your usual size.
One of the standout features of these trainers is their wide toe box design, which is particularly beneficial for individuals with wide feet and various foot problems such as Plantar Fasciitis, foot pain, flat feet, bunions, and hammertoes. This design element allows for ample room and greater comfort for your toes, reducing pressure and discomfort.
In terms of construction, the outer material of the Fitville Stride Core Wide Fit Trainers features a 3-layer mesh, providing breathability and helping to keep your feet cool and dry. The rubber sole offers durability, flexibility, and traction, making them suitable for various activities and terrains.
Fitville Stride Core Wide Fit Trainers offer a comfortable and supportive solution for individuals with wide feet and foot problems. Don't forget to consider the sizing advice! Check out the latest price.
Choosing the right trainers for foot problems is essential to ensure comfort and support while alleviating any discomfort or pain. For example, you might want to consider wide fit hiking boots, or wide fit trail running shoes, if you like to hit the trails. By considering these factors and choosing trainers tailored to your specific foot issues, you can find footwear that offers the support and comfort needed to alleviate foot problems and allow for an enjoyable workout or day-to-day activities.