Fed up with stones in your shoes and wet legs on the trail? Choosing the best gaiters can make all the difference between an unforgettable trek, and a nightmare you'd soon wish to forget. This guide to the best gaiters for hiking and running looks at the sizes, types and materials available, and will teach you what to look for when purchasing a pair.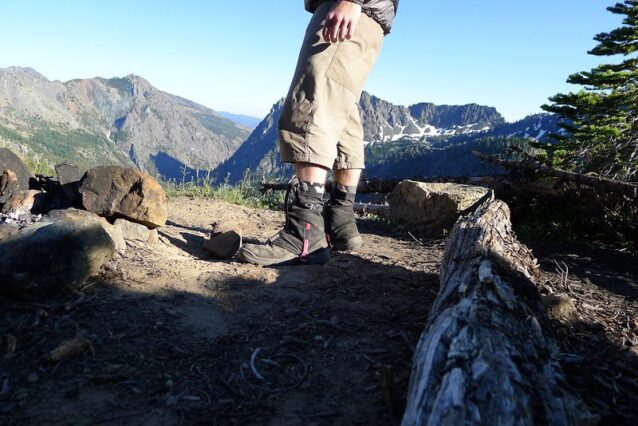 What are Gaiters Used For?
Gaiters are fabric guards, covering the lower part of your legs and upper part of your boots. They also provide a protective barrier for your feet. Their purpose is to prevent snow, water, sand, dirt or pebbles sneaking into even the most waterproof of boots. They help keep your feet warm, dry and irritant free on your hike or run.
These simple products are a plus on short walks through dewy grass, or when not fully prepared with waterproof trousers. Many of us have discovered how quickly a pair of trousers can become saturated, just from brushing the occasional wet grass blades poking onto a path.
Gaiters for hiking come in a range of sizes and types. Mid-length and ankle length are the most commonly used.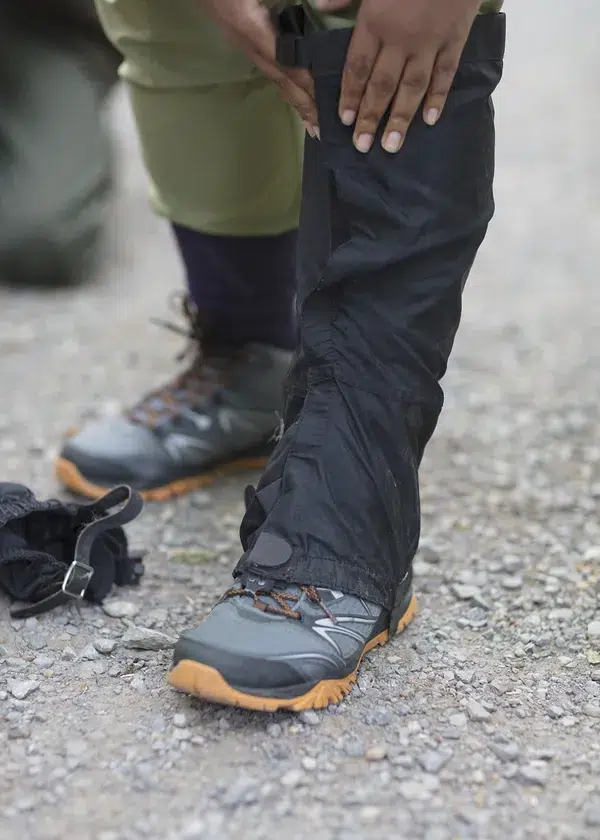 Types of Gaiters for Hiking and Trail-running
The ideal gaiters for hiking depends on your usage, the conditions you will encounter and also how much protection you need. Whether you are hiking, trail-running or clambering up the side of a snowy mountain, there is a gaiter to fit your needs and budget. Lets break them down by size, which in the gaiter world therefore means height.
Ankle Gaiters for Hiking (about 6 inches in height)
Ankle gaiters, also called 'over the ankle' gaiters, are the most common type of gaiters. They bind to the ankle, offering protection from the top of your footwear to the bottom of your trousers. Crucially they cover the exposed gap between your footwear and clothing, keeping debris out. These types of gaiter are often the most lightweight and used by trail-runners or as walking gaiters in dry or fair conditions. They are also sometimes seen as a summertime gaiter.
Mid-Length Gaiters for Hiking (8-12 inches in height)
Also known as mid-calf gaiters, these fit between the ankle and mid-calf. They are ideally used for rainy days for when you just need to keep water, sand, dust or debris out of your footwear. Many users rely on these as the go-to gaiters for all seasons, especially if they avoid the harshest weather conditions.
Full-Length Gaiters for Hiking (15-18 inches in height)
Also known as knee gaiters, these are the full gaiter for more rugged conditions such as deep snow, wet brush or heavier rain or weather. A popular choice for serious hikers and hillwalkers, giving the most protection from the wet and debris right up to knee level. As a result, they are the perfect way to seal in your lower legs from the worst conditions.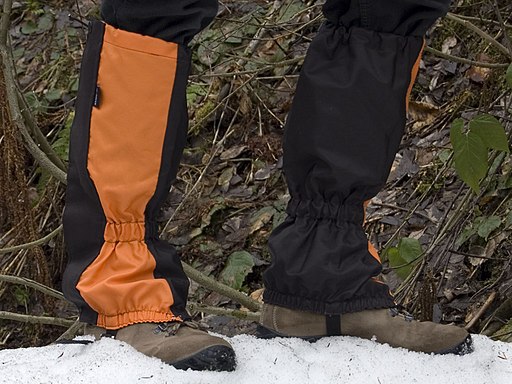 Gaiter Features and Material
Once you've decided on the right height gaiters for you needs, the next thing to look at is the type of material they are made of. There are also more specific features, such as the type of fastenings used, abrasive resistant lower areas, and breathable pockets, used to help keep your feet dry and fresh.
Let's break down these features into bite sized chunks, to help navigate to the best choices for your needs and price point. A quick proviso, like with anything in life, cheaper products tend to have lesser quality fasteners or user cheaper materials. But, this doesn't always mean it's a bad product and some bargains are out there, especially if you are an occasional or gentle hiker.
Gaiters can vary in price from as little as £15 to well over £100 for the top end types for extreme conditions. Always check size at purchase point to allow correct size for you feet.
Gaiter Materials
Gaiters for hiking and trail-running are generally made with synthetic fabrics such as polyester or polyurethane-coated nylon. Some are made from waterproof, but breathable, technical materials like Gore-Tex, with its three layers of construction.
Apart from providing a waterproof, or water repellent skin (more on that in a second), the fabric in gaiters hug the leg and also closes the gap between trousers and footwear, ensuring a barrier to prevent debris finding its way into your footwear.
Waterproofing
Some gaiters are water resistant while others are waterproof. Water resistant gaiters are generally breathable, allowing sweat to evaporate, whilst waterproof are not. If you are regularly stomping through snowy or really wet conditions, go for waterproof types.
Abrasion Resistance
Gaiters are generally made of a tough material that are hard to tear or scuff, but many good ones have additional and even tougher abrasive resistant fabric. This lower cuff can reduce wear from rocks and ice in the environment, as well as from rubbing from your footwear as you walk. It can also help with the occasional nick from crampon points or hiking pole, and reduce snagging damage.
Abrasion resistance is usually constructed from a variety of materials, with the better quality made from Kevlar or Cordura.
Hiking Gaiter Weight
Another consideration to make is weight. Ideally, the best gaiters are lightweight. Gaiters add extra weight to a hiker's overall load, and a few extra grams over a long hike could make a difference to fatigue.
Trail-running and Hiking Gaiter Entry Systems
There is a wide range of fastener options on the market with hook and loop, Velcro and zip systems being the most common.
Zip fastenings are common on older models. They are still perfectly usable but bear in mind they can be cumbersome with gloved hands. If you do go for a zip system, try and find ones with a storm proof flap to help keep the worst of the debris from getting through the protective layer.
Top Closure – The top closure on most gaiters is usually a buckle strap. More common is an elasticated drawcord to pull the top of the gaiter close onto your legs, sealing you from the worst of the weather and debris.
Lace Hooks – Some models offer lace hooks for added security by allowing the lower part of the gaiter to be hooked onto boot or shoe laces. This reduces the risk of the gaiters riding up and allowing dirt to get under them.
Inset Straps – Similar to lace hooks but sturdier, some gaiters come with inset straps, sometimes referred to as stirrup straps. These are made from either rubber, leather or nylon, and loop under the boot as an anchor point to stop the gaiters riding up. Some premium gaiters come with an additional small metal buckle for adjustment.
Insect Repellent – Some gaiters are made with fabric permeated with chemicals like Permethrin, an insect repellent to keep ticks, mosquitoes and other insects at bay.
Elasticated Ankles – Some gaiters come with elasticated ankles to give a closer fit and reduce the risk of water getting in.
Best Gaiters for Hiking and Trail Running
Salomon Trail Gaiters
These Salomon gaiters serve as a barrier between the rough material and your feet, which can lead to debris in the shoe.
Simply slip these gaiters over your shoes and Velcro them shut.
The strong strap under the foot and a sturdy mesh ankle wrap mean they are durable and give a close fit.
Thin padding on the ankle bone for extra protection.
External side closure for easy on and off.
Lightweight, so you won't even notice you are wearing them.
Salomon are leading experts in trail running footwear, and these gaiters also show their worth in off-road terrain. Check the latest price.
---
Berghaus Unisex Gore-Tex II Gaiters for Hiking
The Berghaus GTX Gaiter will weatherproof your lower legs when conditions get tough. Don't let rain or thick, soggy mud stop you from having fun!
Three layers of breathable protection in the high-performance Lofoten fabric by GORE-TEX. Dry protection even in the wettest of conditions.
Quick fitting hook-and-loop system over your boot, an underfoot strap, and a drawcord below the knee.
High visibility – the design has a reflective trim so that your friends can find you in the dark.
Both regular and long sizes are available.
These Berghaus gaiters are ideal for tougher trails, and offer all the protection you need for an outdoor adventure. Check the latest price.
---
TREKMATES Cairngorm Gore-Tex Gaiter for Hiking
The Cairngorm Gaiter is a great choice for the serious outdoor enthusiast. It's waterproof, windproof, and breathable, so your foot stays warm and dry in any condition.
High-quality, ergonomically shaped, lightweight gaiters
3-layer, durable, waterproof, windproof, and breathable Gore-Tex membrane
2-fold press studs and a covered front Velcro fastener
Extra-strong fabric-reinforced sole straps with a buckle attachment
At the top of the gaiter, there is a single-handed drawstring for adjusting width.
The Cairngorm Gore-Tex Gaiter is a great addition to your hiking gear. It's lightweight, easy to use, and keeps your feet dry and warm when you need it most. Check the latest price.
---
TRIWONDER Trail Gaiters for Hiking
Muddy trail? No problem! TRIWONDER Trail Gaiters keep your feet dry and comfortable, no matter where your adventures take you.
600D Oxford cloth makes these gaiters tear and wear resistant.
Waterproof yet breathable coating, which keeps the inside dry.
The top of the gaiter has an elastic drawstring that, when pulled tight, can keep you warm and prevent snow and sand from getting into your gaiters.
The bottom of the gaiters has a fixed strap and a metal hook, for extra protection and good fit.
Hook and loop makes them easy to put on and take off.
These lightweight gaiters are perfect for carrying in your backpack, and ideal for many outdoor activities. Check the latest price.
---
Andes Ankle Gaiters for Hiking
These Andes Waterproof Ankle Gaiters will protect your ankles from mud and muck. With their waterproof design and construction, they'll keep your feet safe from rain, snow and debris, so you can focus on what's important – the hike!
These light gaiters, made of 290T/40D nylon, are comfortable and easy to pop into your backpack.
Strap with self-fastening adjustments for the best fit, most comfort, and security.
These black gaiters measure 20cm in height and fit UK sizes 5- 11.5.
Gaiters are 100% waterproof, touch and durable.
The Andes Waterproof Ankle Gaiters are the perfect companion for wet hikes, rainy days, and even deep puddles. These gaiters will keep your ankles dry and comfortable, so you can focus on the adventure ahead. Check the latest price.
---
When it comes to hiking, there are a lot of things that you can do to make your experience more enjoyable. One of the most important is having the right footwear, such as for wide fit hiking boots if you have a wider foot, and of course – good gaiters!
They keep your trousers from getting muddy and dirty, and they're great for keeping out all sorts of debris, from sticks and rocks to dust and small pebbles also. Best of all, they help in keeping water out of your shoes, so you don't have to worry about getting wet feet when it starts raining—or if you just happen to step in a stream! So, make sure you invest in a pair of gaiters, ready for your next hike or trail run.