As an avid adventurer, you know the importance of having the right gear. That includes a waterproof backpack! Whether you're an outdoor enthusiast or just want to be prepared for any unexpected weather, a waterproof backpack can help keep your belongings safe and dry no matter what Mother Nature throws your way.
It's not just about keeping your belongings dry. A waterproof backpack also offers you peace of mind. You don't have to worry about your electronics getting damaged or your food supplies getting ruined. Plus, if you're traveling with important documents like passports or visas, you can rest easy knowing they're protected from water damage.
What to look for in a Waterproof Backpack
When choosing a waterproof backpack, it's important to make sure that the zips and seams are fully sealed. This will ensure that your belongings stay dry even in the most extreme conditions. Also, look for durable materials like nylon or PVC.
A roll top waterproof backpack offers more compression and a wider opening, giving you more options for use.
There are many different styles of waterproof backpacks available, so it's easy to find one that suits your needs and style. Whether you're looking for a small pack for daily use or a large pack for extended trips, there's sure to be something for you.
Here's our guide to 10 best waterproof backpacks for any outdoor adventure.
1. Overboard Waterproof Backpack
The Overboard waterproof backpack is a high-quality backpack designed to keep your belongings dry and safe in wet conditions. It is made from durable, waterproof PVC bonded nylon that ensures maximum protection against water damage.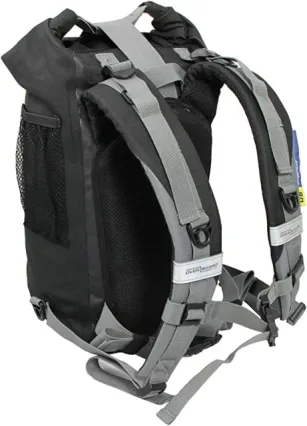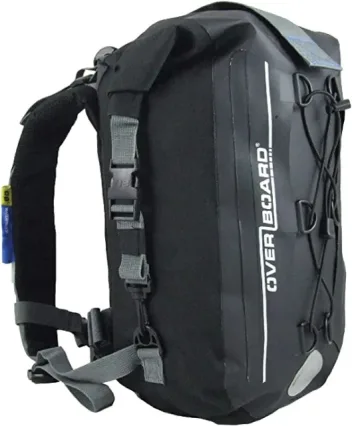 Class 3: IP66 Waterproof Rating, and is dunk-proof! That means it can handle quick submersions, and it even floats on water!
The backpack features a roll-top closure system that seals out water and prevents moisture from seeping into the bag. It also has an internal pocket for easy access to small items such as keys, wallets, and phones.
The shoulder straps are adjustable and padded for comfort during extended use. The back panel is also padded with air-flow channels to provide ventilation and reduce heat build-up.
Available in 3 colours, and 20 and 30 litre sizes.
Overall, the Overboard waterproof backpack is an excellent choice for anyone who needs to protect their gear from water damage while on the go. Whether you're hiking, camping, or commuting in rainy weather, this backpack will keep your belongings dry and secure. Check the latest price.
---
2. EarthPak Summit Waterproof Rucksack
EarthPak is a brand that began when two outdoor-loving people designed a waterproof backpack to fulfil their needs. Available in 35l, 55l, and 85l sizes, these innovative bags are suitable for day trips, right through to backpacking, water sports and more.
Roll top waterproof backpack closure means extra protection from the elements. Simply roll down a couple of times and secure with the strap.
Features internal and external pockets for your keys, phone and other bits and bobs.
The shoulder straps come equipped with D-Rings and the MOLLE system is looped to provide you with multiple anchor points. So, whether you're cruising on a boat or biking through rough terrain, your gear will stay put.
The ergonomic padded back-panel, reinforced contoured shoulder straps and low-profile sternum strap work together like a dream team to give you ultimate comfort. Plus, the heavy duty waist-belt takes on extra pressure so your load feels lighter.
With EarthPak waterproof backpacks, your gear is in safe hands. Check the latest price.
---
3. Crenze Foldable Backpack
The Crenze 25L foldable waterproof backpack is a budget-friendly and durable backpack that is perfect for outdoor activities such as hiking, camping, and travelling. The backpack is made of high-quality nylon material that is lightweight yet strong enough to withstand the rigors of outdoor use.
The backpack is made from water-resistant fabric that keep your belongings dry even in wet conditions, making it perfect for rainy days. Although, it is not the sort of pack that will stay dry when submerged.
The backpack features a spacious main compartment with a capacity of 25 litres, which provides ample space for all your essentials. It also has several smaller pockets and compartments, including a front pocket, two side pockets, and an internal zippered pocket, making it easy to organise your gear.
One of the best features of this backpack is its foldable design, which allows you to easily pack it away when not in use. This makes it ideal for travellers who need a reliable backpack but don't want to take up too much space in their luggage.
If you're looking for a versatile and durable backpack that can handle all your outdoor adventures while still being lightweight and easy to pack away, then the Crenze 25L Lightweight Foldable waterproof backpack is definitely worth considering. Check the latest price.
---
4. Pokarla 40L Waterproof Backpack
This lightweight Pokarla waterproof rucksack weights only 0.9 pounds! And when you're done using it to conquer mountains or run errands, simply fold it up and tuck it away in its own pocket for safekeeping until next time.
Crafted from top-notch honeycomb nylon, this fabric can withstand wear and tear, as well as rain.
The zips are made from heavy-duty metal and reinforced with bar-tacks at stress points, they're ready to take on whatever your day throws their way. No flimsy plastic here – these zips are built to last.
40 litre capacity gives you lots of room for extra layers, snacks, or anything else you need to take with you, and includes one main zipped compartment, one zipped front pockets and two side pockets.
The shoulder straps are made of a breathable mesh material and cushioned with sponge padding to be comfortable on your shoulders.
The chest clip with whistle buckle not only helps distribute weight evenly, but also keeps everything nice and centred.
Whether you're hitting the trails or jet-setting across the globe, this bag is ideal. Check the latest price.
---
A waterproof backpack is essential if you need to carry things outside. Whether you are packing for a hike, your commute to work, or going to a festival or event, having a waterproof rucksack will give you peace of mind that your belongings will stay dry.