When hiking or camping overnight, one of the best ways to get a good night's sleep in by using a camping hammock with mosquito net built in!
There are many benefits of sleeping in a hammock. When camping or out on a multi-day hike, having a hammock to relax in after your day is welcoming, fun and comfortable.
If you haven't used a hammock before, choosing one that fits your needs can be confusing. But, if you are looking for outdoor sleeping that also keeps biting insects at bay, a hammock with mosquito net built in is a good option.
Here's a guide to the top five camping hammocks with mosquito nets, and answers to some questions about sleeping in hammock.
Why should I try a hammock for camping?
Weight – your backpack is lighter when you have a hammock instead of a sleeping mat. Hammocks can also fold small, so are less bulky to carry in your backpack.
Comfort – there is something really relaxing about being suspended in a hammock. Forget lumpy, uneven ground, camping mats that are too thin, or airbeds that get punctures. A night in a hammock is both cosy and comfy.

Ever had to pitch a tent after it's been raining? Sleeping on damp ground, even with a waterproof ground sheet is not much fun, and you also have to spend ages drying out your tent when you get back home.

Camping in a hammock with mosquito net and fly sheet means you always have a dry place to sleep, and bugs can't crawl into your bed from the floor or from the air.
Convenience – you can use a hammock anywhere that has a place to tie it. Uneven, sloped ground – no problem! Hammocks are usually tied between two trees, but they can also be tied to car roof racks, fence posts or there are lightweight hammock frames that are portable, if there are no suitable places.
Value for money – a good hammock is a durable piece of camping equipment that will last you for many years. A hammock with a rain tarp costs significantly less that a solo-tent.
Environmentally friendly – hammock camping does not disturb the ground like camping in a tent. This lessens the effect on plants and wildlife. There is also no damage to trees if a hammock is put up correctly, and many have wide straps to help cushion tree trunks and branched from the weight.
If you are a keen camper who loves the ideas of sleeping in a hammock, then you probably want to consider ones that have removable mosquito nets.
While you may not always need to use the mosquito net, it is great to have one just in case you camp for the night is full of midges, or mozzies!
Are two person hammocks any good?
It depends. If you are close with your partner and don't mind fidgeting, then a double hammock can work well. But, double hammocks aren't just for two-person sleeping. You can enjoy the extra room for yourself, or there is room for your dog if you have one!
A two-person hammock barely weighs more than a smaller one, so it is worth considering for a roomier night's sleep. However, if you prefer to pack as light as possible, a single hammock will lighten the load by a few ounces, and it all helps!
Here are the top 5 camping hammocks for this year, with mosquito nets
1. Covacure Hammock
If you are looking for a budget friendly camping hammock that is made to last, then Covacure is just what you need.
Parachute Nylon, tear-resistant, triple-Stitching and ultra-strong nylon straps.

Carry maximum weight up to 198 kg (440lbs).

With a packed weight of just 0.7 kg, including the 2 carabiners and nylon straps, this camping hammock is great for those who like to pack light.

It comes with an integral mosquito net. The mesh is fine enough to keep pesky midges out!

Keep your phone and other valuables handy in the attached stuff pocket.

Easy to put up and store away.
This camping hammock stands out as it has over 700 fantastic reviews! Check the latest price on Amazon.
2. Fe Active Trestles Camping Hammock
Another quality budget option, this hammock was designed by outdoor enthusiasts in California and comes with a lifetime warranty. The larger than average size make it great for sharing of for those who like a bit more room.
Parachute nylon that uses ripstop fabrics, a reinforcing technique that withstands rips and tears by interweaving thick reinforcing threads at regular intervals in a strong intertwining pattern.

It measures 3 meters long and 2 meters wide, and weighs 1 kg.

Durable tree rope, carabiners, and additional straps.

An attachable mosquito net.
See the latest price on Amazon.
3. KePeak Camping Hammock
This camping hammock is ideal for use in back gardens, day trips or for multi-day hiking and camping. There are a lot of colours to choose from, so you can either blend in with your surroundings if you like to get close to wildlife, or you can be bold and stand out!
nylon fabric. Unique strap design has breaking strength of 660 lbs.

Built-in ultralight, waterproof compression stuff-sack

Includes everything needed for easy hanging and complete set up in a minute.

Weighs 1.3 kg.

102″ long x 56″ wide, with two ropes 137″ long and two solid steel carabiners, two tree straps each 76″ long.
Check for latest price on Amazon
4. LYDuo Camping Hammock
If you are looking for something a little more than budget camping hammocks, this mid-range one from LYDuo is a worthy buy.
All gear included – hammock with mosquito net. Double sized (270cm x 140cm),15+1 loops tree straps x 2, and carabiners x 2 to hang your double hammock nearly anywhere.

Made from Breathable Woven Parachute Nylon, Strong and Lightweight, conforms to your body with no pressure points.

Strong Built – ripstop nylon hammock parachute grade construction, with three triple stitching, the portable backpacking hammocks provide relaxing support up to 300kg easily.
5. Hennessy Expedition Zip Camping Hammock
If you like years of perfected design, the Hennessy camping hammock is top of the range! It may cost more than other hammocks with mosquito nets, but you probably won't need to buy another camping hammock again. It also comes with waterproof fly sheet.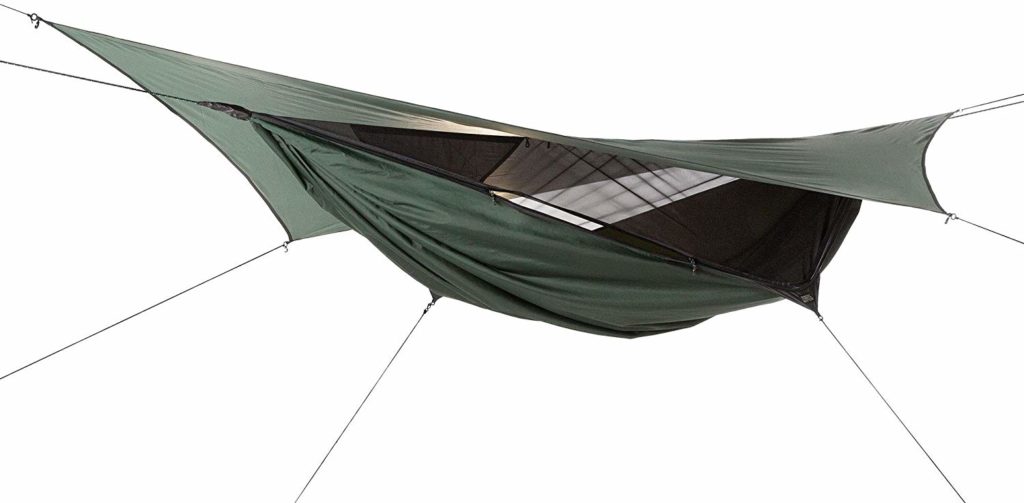 For serious multi-day hikers, campers and explorers, the Hennessy hammock is one of the best.
Designed for anyone up to 6ft and 250lbs

Side entry with full length #10 YKK zipper; Asymmetric hammock shape conforms to your anatomy and structural ridgeline work together to provide the same comfortable bed every night

Complete jungle hammock shelter system for one price – tightly woven 70d high density nylon bottom; 30D no-see-um polyester mosquito mesh; Elastic "hold open" for mesh; Gear loft slides on ridgeline; 70d polyester ripstop rainfly; 1500lb (680kg) test polyester ropes, 6 times stronger than the weight limit of the hammock; Complimentary webbing straps included to protect the rope and the bark of trees

A serious 3 or 4 season lightweight camping and survival shelter built tough for years of service in the outdoors, used by campers, hikers, boy scouts, preppers, soldiers, military units, explorers and scientific expeditions

Patented asymmetrical shape provides exceptional comfort when lying on the diagonal.
Check for latest price on Amazon
What is a Tree Tent?
If you have money to spend and are looking for something that has a little extra – then you could try a tree tent. This offers more than a hammock with mosquito net, it is all year round outdoor accommodation!
Tree tents have a third anchor point, creating a taut surface when you can sleep comfortable with a partner.
The Safari Connect tree tent can be set up for months at a time in all but the coldest of seasons. If you are camping out for some time, this tree tent provided you with a comfortable place to sleep each night that is off the floor.
Here's the specs:
Set up time: 15 minutes

Seasons: 4 (not including Arctic Circle winter)

Poles: 2 x 11mm diameter anodised aluminium alloy

Insect Mesh:Grade 4 165g/m² tear-resistant safari insect mesh

Floor fabric: Heavy Duty Beige Ripstop Dacron 300D/300g/sqm

Ratchets & Straps: 3 x 6m straps and heavy-duty ratchets 25kN minimum breaking strength

Pegs: 3 x Giant Pegs

Waterproof fly sheet

Weight: 10.5kg / 23.1lbs

Load Capacity: 400kg /880lbs

Five-year UV degradation protection

Size: 4 x 4 x 2.7m

Floor Area: 5m²
With a weight of 10.5 kg, this probably isn't something you'd want to take hiking unless you could share the load between you and your partner. Packing light when hiking is important, but if you are setting up camp for a week or longer, tree tents provide a fun and comfortable place to sleep.
The Safari Connect Tree Tent is available from Simply Hike
Camping Hammock Tips
Tip 1: When you use a camping hammock, you will also need a fly sheet or rain tarp to keep you dry and out of the wind. These are usually sold as additional items, unless you go for a hammock bundle.
Tip 2: To get comfy in a hammock, lay asymmetrically instead of straight. This will give you a broader area to lay on and allows you to lay on a flat surface. Some hammocks have asymmetric design to help give you a flatter place to lay.
Tip 3: To stop feeling the cold from underneath, go for a warm sleeping bag or additional sleeping pad.
Have you tried hammock camping? If you have any tips, please share in the comments!