Growing your own garlic is super easy. As well as being a delicious crop, garlic can also be used to add structure and interest to a garden border as well as repelling many garden pests due to the odour!
Fragrant and pungent, garlic is a must-have ingredient for a host of dishes, and growing your own garlic is something that anyone can do, whatever space they have. They do well in a garden border, in rows on a veggie patch or grown in pots or containers.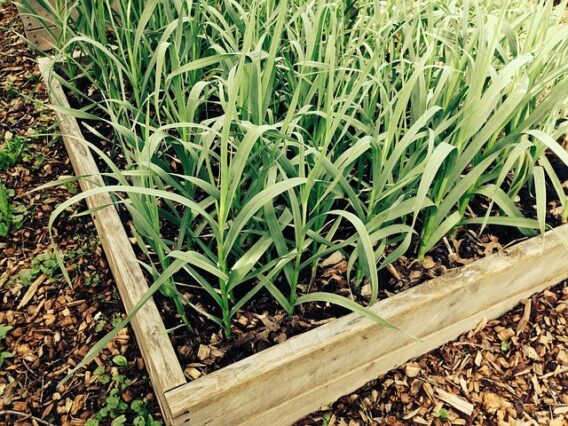 There are varieties of garlic that are planted in springtime and varieties that are planted in autumn/winter. The most successful and larger bulbs tend to be the autumn/winter garlic varieties.
For good results, make sure you purchase garlic bulbs from a garden centre or seed supplier, and do not try to grow garlic bulbs bought from a supermarket. Growing garlic from supermarket cloves is not as easy, as the varieties differ and they do not tend to grow as well.
How to Plant Garlic in the Garden
Plant garlic bulbs in a sunny position in your garden border or veggie patch.
First, prepare the soil by removing any weeds and digging in some well-rotted manure, or good garden compost. Use a fork to work out any large clumps and rake to a fine tilth.
Remove each clove of garlic from the bulb and plant it approximately an inch deep, with the pointed tip facing upward. The tip should be just below the soil.
Space each clove approximately 4 inches apart and leave a foot between each row so that you can easily walk between them.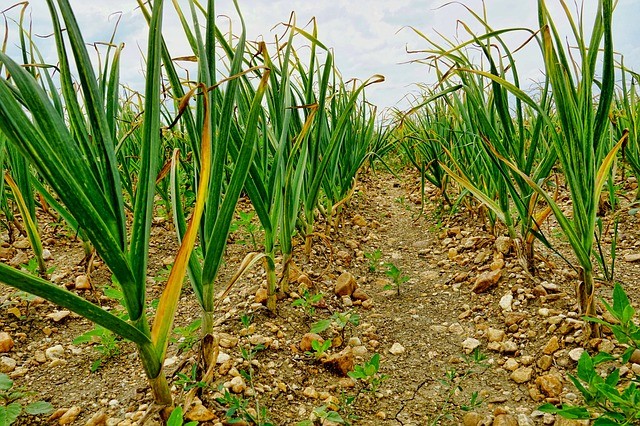 If you can set aside an area for growing garlic, you can still keep them well spaced but without the need to put into rows, as long as each garlic bulb has enough room to grow.
How to Grow Garlic in Pots
Garlic is happy to grow in pots and containers. Choose a pot that is at least 8 inches deep to allow the bulb to develop. Keep an eye on the moisture of the soil, as pots tend to dry out quickly in warm weather.
Caring for Garlic Plants
Growing garlic is fairly trouble free. Keep the soil free from weeds and water if the soil looks dry.
If you continually grow garlic bulbs in the same location, white spot and rust are fungal problems that could become an issue. The remedy for this is to rotate crops each year.
Harvesting and Storing Garlic
When the leaves of a garlic plant begin to turn yellow, this is a sign that it is ready to harvest. Carefully lift the bulbs up with a trowel. Wipe of the excess soil and allow them to dry off.
Autumn planted varieties should be ready to harvest in mid-summer, and spring planted garlic varieties in late summer to autumn.
When properly dry, garlic can be stored for approximately three months.
There are many different varieties of garlic, so why not grow a few different types and see what does best in your garden, and what has the best flavour?
Here are a few garlic bulbs for planting available on Amazon.
Want to know more about growing your own food? See the Fruit and Veg page for a list of more things to plant in your garden.