Making a garden safe for children is essential to their well-being. Kids should be encouraged to spend a lot of time outside, and playing in a garden is one of the best ways for children to have access to fresh air and exercise. But, it is surprising how many hazards there are in a typical back garden.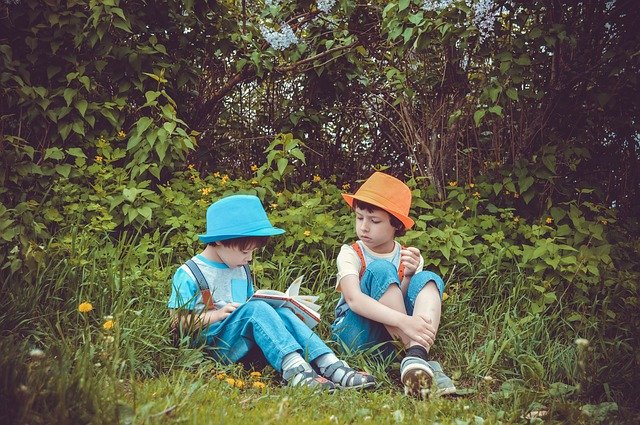 There are several garden hazards that could pose a threat to a child's health, but with a little care, any back garden can be made safe. Here is a guide to how to make your garden safe for children.
Making Ponds Safe for Kids
For small children, one of the biggest dangers in a garden is water. Your typical garden pond may be home to ornamental fish, or perhaps you have a wildlife pond with frogs and newts. Even the shallowest of ponds can be a hazard to small children, so if you are concerned then take action.
Sadly, every year there are deaths caused by drowning, as well as injuries caused by falling into ponds. If you have young children at home, or children who visit your garden, taking safety measures will help prevent accidents and give you peace of mind.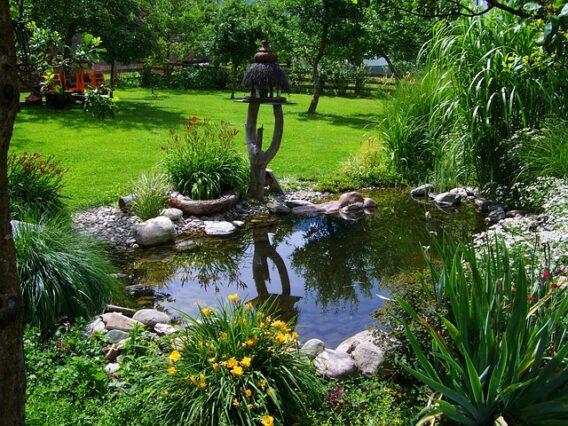 An effective way to keep children safe on the garden is to build railings around the edges of a pond, or cover the surface with a wire mesh frame to stop anyone from slipping and falling in.
Galvanised wire panels are good if you want something quick to pop over your pond when children are around, and that you can easily remove so you can enjoy the beauty of your pond when you want to.
Ponds provide a home for lots of wildlife and are a source of water for garden birds, and provided you make it safe for children, you can still have a pond in your garden. Even with safety measures in place, do not leave small children unattended around water.
Safe Steps
What is about children and steps? Like a mountain climber attempting a summit, we've all watched with horror as someone's tiny tot wobbles up or down some steep steps at a barbecue.
If you do have steep steps in your garden, minimise the risk of falling by assisting young children, or put up a safety barrier to prevent climbing.
Bites and Stings
Your garden is likely to have a few biting or stinging insects lurking about. While a garden provides a home for many creatures, sometimes this can cause conflict with a curious child.
Probably the most common insect to watch out for are wasps. When many children are enjoying an ice lolly in the garden, out comes a pesky wasp who wants a taste too.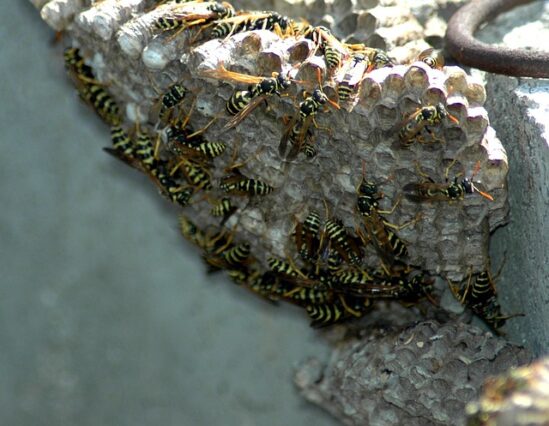 While there is little you can do to prevent a solitary wasp, other than wearing a little insect repellent, you can prevent nesting. Prevention is better than cure when dealing with wasp nests. Rather than rely on pesticide treatments, why not try a natural prevention instead?
Decoy or dummy nests can stop wasps finding a territory. They are cheap to buy and look like paper lanterns.
The most common places for wasp nests are in trees, sheds and garages. If you do notice a nest, explain to children why they can't play in that area.
Gardening Tool Safety
Lawnmowers, spades, garden forks, can all present a danger to small children.
Make sure tools are stored safely and put tools away after use. If you don't have a garden shed, you can buys lockable tool storage for the backyard.
Similarly, if you use fertilisers, chemical pesticides, or paints in your garden, make sure these are safely stores out of reach.
Outdoor fire pits, chimineas and barbecues can also be a hazard, and can stay hot for some time after use.
Poisonous Plants
Young children like to explore, and that's good! But, for young children, it can mean putting things into their mouths. While children are unlikely to eat plant leaves as they tend to be bitter, they might be more tempted by plants with berries on them. Some berries on garden plants may be poisonous, so if you are unsure, cut back any fruiting plants that are within reach of little hands.
Make sure children wash their hands after being in the garden, as they may have touched leaves, bark or flowers that may cause a sore tummy if ingested.
A garden should be a place for the whole family to relax, play and a space to enjoy. Making your garden safe when you have small children will give you peace of mind.
Children of all ages need to be able to have access to outside space, so having a safe garden that children can explore and get some exercise makes it easy for you to provide that essential element to their well-being. So, use these tips on how to make your garden safe for young kids, and get out there and have fun in your outside space!