Bird feeders come is a variety of styles, so how do you know what bird feeders are best for garden birds?
Watching and supporting wild birds in your garden, or on your balcony, is an amazing way to get a little nature into your everyday life. Whether you choose a window bird feeder, or a bird feeding station, attracting wild birds to your garden is a pleasure that's shared by many people. But, there's more that can be done, and so many more food options for wild birds that can be offered. Why not help a portion of the natural world and give them the best chance at not only surviving, but thriving?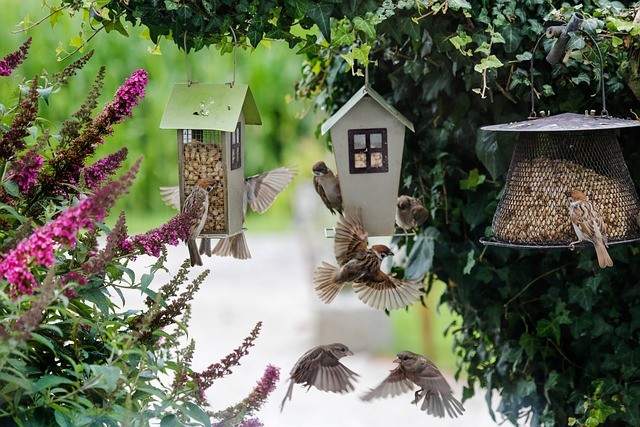 Birds get many food types from wild natural locations, but we can do more to supplement their natural sources with some high fat nutrition, especially at the tougher times of year. This gives them a much needed boost, and with some bird species, a fighting chance to not disappear from our daily lives. Read more on the best types of bird food to feed all year round.
By choosing the right kind of bird feeder, you will attract many species to your garden. There are a wide variety of feeders out there for various types of foods, squirrel-proof bird feeders, as well as those that deter larger bird types, if you so wish to do. Other types of bird feeder can be attached to windows for those without a garden, or for getting really good views up close, This is also a great way to teach children about the importance and beauty of the natural world.
Bird feeders come in a variety of prices and sizes. Personally, I'd offer a few smaller feeders over one larger, giving the possibilities of various food sources at one time and increasing your chances of attracting a wider variety of bird species.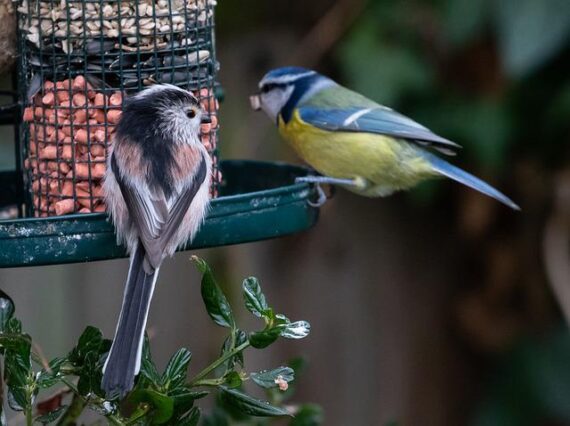 Some suppliers of fat-balls and peanuts sell their products in plastic netting. It's very important that you don't put these out, using the netting as a feeder. This is because they are known to trap birds' feet, or woodpeckers may trap tongues, and they have been reported to kill many birds as well as being bad for the environment in general.
Types of Bird Feeder
Seed Bird Feeders
Seed feeders are used primarily for seeds, whether that is for mixed seed, sunflower seeds or hearts. But beyond that, they can also be used for dried mealworms, crushed nuts or suet pellets. Some have particular hole sizes for smaller specialist seeds like niger seeds, although good feeders can cope with those too.
Seed feeders are usually clear, transparent cylindrical containers or occasionally tight meshed metal ones. Some come with a couple of perching foot holds, others with an under-tray and a ring foot platform for perching at different angles. They are usually hooked from the top and have feeding holes that allowing more than one bird to feed at a time. Seed feeders are popular with goldfinches, greenfinches, blue, coal and great tits, as well as a well-balanced collared dove.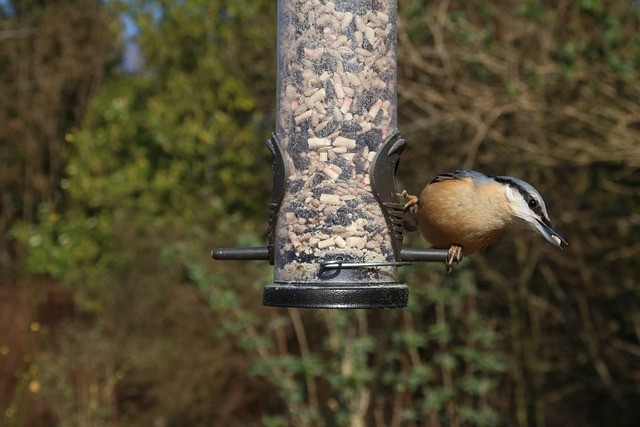 Peanut Bird Feeders
Peanut feeders are usually round cylinders with slightly larger holes. This allows birds like blue tits or woodpeckers to peck through to break off parts of nuts, rather than being offered whole ones which can be a choking risk for small chicks. These holes are usually around the 5-6mm size and stops birds trapping or damaging their beaks. They don't usually have perching handles, as the birds tend to grip the mesh itself.
Peanut feeders are safe, allowing birds to feed without the risk of getting trapped in the mesh net types (a big no-no). Never use salted or dry roasted peanuts, and buy your nuts from a reputable supplier to reduce the risk of natural toxins in peanuts like Aflatoxin.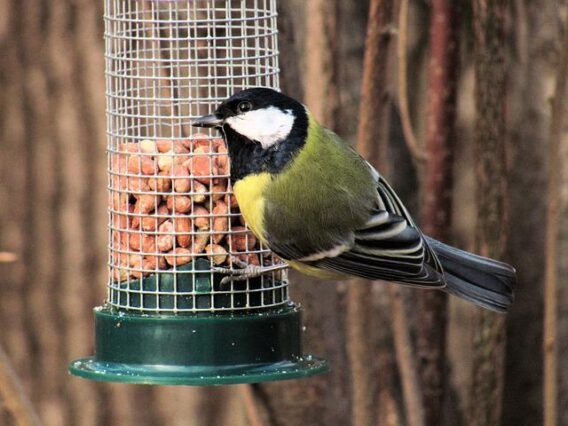 Ground Bird Feeders
Ideally, these are more suitable in larger gardens, away from shrubs where cats can be within pouncing distance. Many birds like blackbirds, robins, dunnocks, as well as doves and pigeons, prefer a ground feeding station, though many mop up fallen seeds from the hanging types. They are typically tray formats which allow drainage of water and are easy to clean, but they may attract squirrels and crow species.
Suet and Fat Ball Bird Feeders
These can come in either cylindrical or square shapes of various sizes with very large holes and are usually quite heavily constructed from steel. They vary depending on if you use typical round suet fat balls or square food cakes, all of which are commonly sold. They are also suitable for homemade fat balls.
Suet and fat ball bird feeders offer an easy access to the food inside, but allow for a certain amount of shrinkage before the food falls through and is mopped up by ground loving birds. Popular with starlings as well as tits, but they can also attract jackdaws or similar crow species.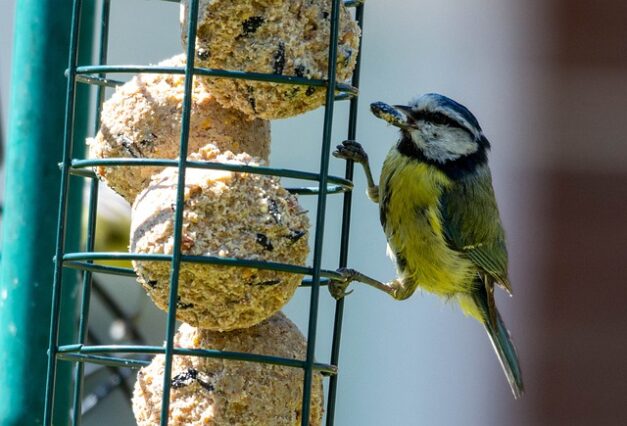 Window Bird Feeders
Window bird feeders are usually made of clear plastic and attach to windows with strong suction cups. They are usually for smaller birds, and ideal for people with no gardens or those that want a good close-up view of birds feeding. These can hold various types of food and are easy to keep clean.
Other Types of Bird Feeder
There are so many other types of feeder, from classic wooden garden bird tables (open or roofed) that allow a wide range of foods, as well as homemade types like half coconuts (though make sure to wash off the coconut milk). There are also some really extravagant, almost architectural, works of art like brushed aluminium domed feeders, or the beautiful Pidat bird silo feeder.
Another thing to consider is the pest proofing of feeders. Some are made to deter squirrels (usually labelled squirrel proof) and many are made in many ingenious ways with tougher materials to stop them being chewed through. Some have a cage outside, limiting access to only the smaller species by means of a strong metal frame. The choices of bird feeder are almost endless, to suit any budget.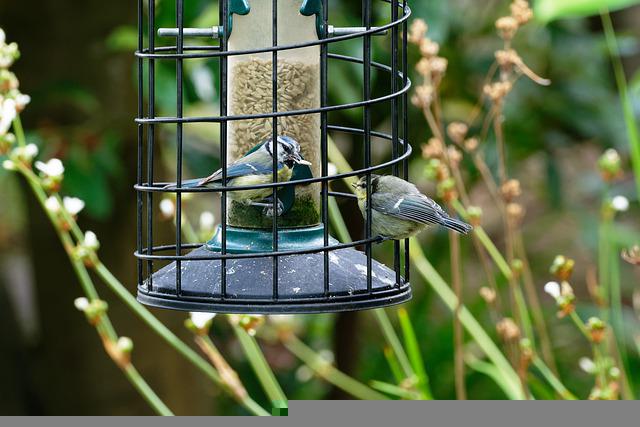 When feeding garden birds, don't forget a water source. This is not only important in the hot summer months, but also in winter when birds can't access to natural sources that have frozen. Keeping a small, light ball in your bird bath can keep a small amount of water unfrozen.
Most small birds need to drink at least twice a day, so this could make a massive difference at crucial times. It is also important for bathing and keeping their feathers in top condition.
Where to place Bird Feeders
There are some important aspects to the placement of feeders in your garden. Firstly, bird feeders that are raised off the ground (eye level or higher) are better suited closer (though not within cat striking distance) of hedges or shrubs. This gives shy birds the confidence to make the leap of faith to the feeder. Bear in mind that some birds are ground feeders, so they are best away from similar shrubs, giving them an opportunity to spot predators in plenty of time.
Feeding locations could be from a tree branch, or a pergola or similar construction. Some manufacturers make a post or pole that many feeders can be hung off of (some even include a water bowl attachment).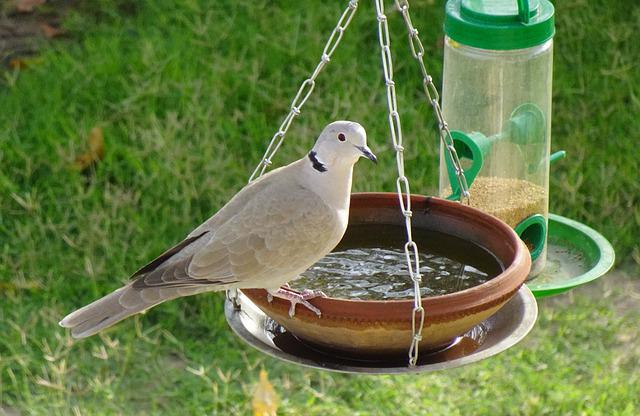 With introducing any new feeder into your garden, it will take time for birds to both find and trust the food source. Be patient and they will come! Keep feeding regularly and don't change foods too often, giving the birds a chance to learn where the regular good food spots are.
Regular visits from cats can deter some birds from ground feeding as they are generally nervous of the predators lurking. Also, keep bird boxes and feeding stations in quieter parts of your garden, as the hustle and bustle from regular visitors can stress feeding and nesting birds.
Cleaning Bird Feeders
A crucial part to feeding birds is to clean the feeders on a regular basis. Greenfinches have declined 63% since 1993 due to a disease called Trichomonosis, which is spread by contaminated food and drinking water. So, a cleaning regime is incredibly important for this as well as other diseases that could harm our declining bird populations.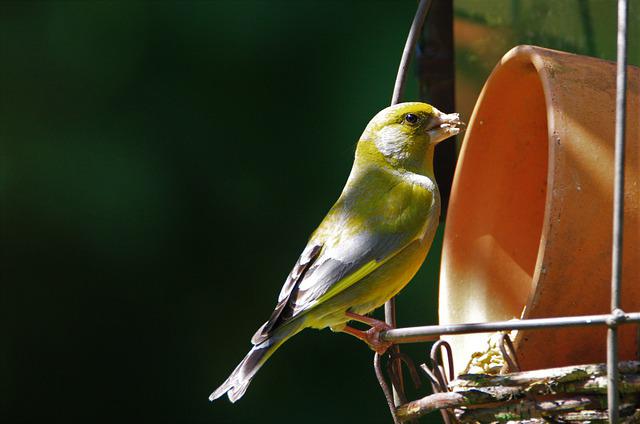 Some disease can pass from birds to humans (though mostly through droppings), so its important to clean the feeders outside using warm soapy water and a mild, animal safe disinfectant. Ideally, tools should be kept for this purpose solely. One of my favourites is a bottle cleaning brush I keep purely for this task. Let the feeders dry fully before refilling.
Clean feeders once a week, the same goes for bird tables and ground feeding trays too. A good scrub with a brush, or old decorating scraper, with a mild disinfectant is ideal. As for water supplies or bird baths, these too should be cleaned weekly and ideally water replaced daily to stop disease and the build up of algae.
Another point to remember is to not overfill your feeders and to throw out food that hasn't been eaten before refilling, as these can attract mould or similar fouling.
Recommended Bird Feeders for the Garden
Here's some of the best garden bird feeders for a variety of foods.
Three different bird feeders – mesh for nuts and peanuts, tubes for seeds, and hanging metal ones for fat balls.
Domed top keeps feeds dry and clean for feeding birds.
Made of premium stainless steel, which is strong, long-lasting, and resistant to ageing. The surface has been given a special anti-rust treatment, extending the time that the bird feeders can be used.
Metal chain and "S"-shaped hook for secure hanging.
Removable top makes filling and cleaning simple.
This bird feeder trio gives you lots of options for feeding garden birds. Check the latest price.
---
Durable polycarbonate box that doesn't turn yellow over time
Fix to the window using three powerful suction cups.
Detaches smoothly for cleaning and refilling (without removing suckers).
All RSPB profits go toward saving wildlife and birds.
A simple to use window bird feeder that will help you get close up views of garden birds. Check the latest price.
---
Designed to keep squirrels away while letting smaller birds feed.
Powder-coated finish for resistance to the elements.
Metal Loop for hanging; hang from trees, feed stands, etc.
Clip down hinged lid to keep the feed dry.
Three feeders, one for each type of feed – nuts, seed, and fat balls.
Keep squirrels at bay with this set of three feeders! Check the latest price.
---
Bird feeding station with hooks and trays.
Two large top level hooks that are perfect for hanging larger feeders, and two additional hooks that are effective for hanging smaller feeders.
All four hooks are completely adjustable anywhere on the pole.
Comes with a water bowl that is perfect for drinking and birdbaths.
Wire mesh tray is great for mealworms, nuggets, suet, fruit, and even seed mixtures.
This feeding station allows you to offer a variety of food, and encourage a range of bird species to your garden. Check the latest price.