If you are looking to begin birdwatching, you are in for a treat! In the UK, birds are the most common and varied wildlife you will come across. They are some 600+ species living around us, in a wide variety of sizes, colours and behaviours. The aim of this guide is to give the basics on what to do to encourage birds into your garden, and how to spot and appreciate these fascinating creatures when you are away from home.
Not only will watching birds help you get closer to nature and appreciate the more common species you overlook each day, but also the possibility to see something a little more special.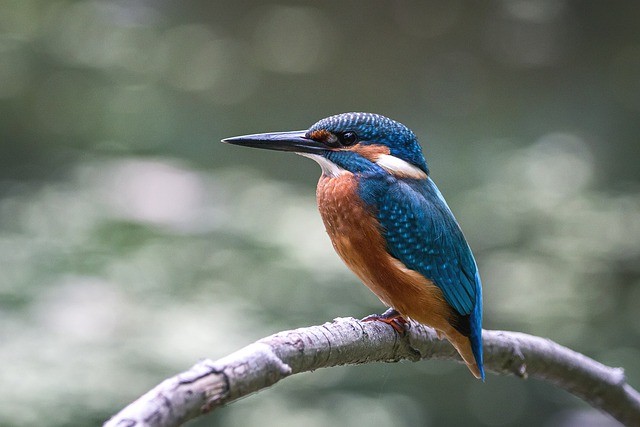 How to Encourage Birds to your Garden
The first way to begin birdwatching is by encouraging them into your garden or balcony. Putting out a food source of good quality seeds would be the first step, something like a premium seed mix or sunflower hearts would be a great start. This will encourage a wild range of species including Blue, Great and Long-tailed Tits, Robins, Dunnocks, Blackbirds, Goldfinches, Bullfinches, Collared doves as well as more unusual or rarer species passing by.
There are a wide variety of bird feeders available in a range of prices to suit all budgets too. Bear in mind that it will take time for birds to discover and adjust to a new food source, so keep the feeding regular and they will eventually come.
Another important choice for your garden is a water source, both for drinking as well as bathing. This can be a small dish or bird bath. Water should be replaced regularly to reduce risk of illness to the birds. Birds really do need a good clean supply of water throughout the year, not just in the hotter seasons but during the winter when other sources they use are frozen.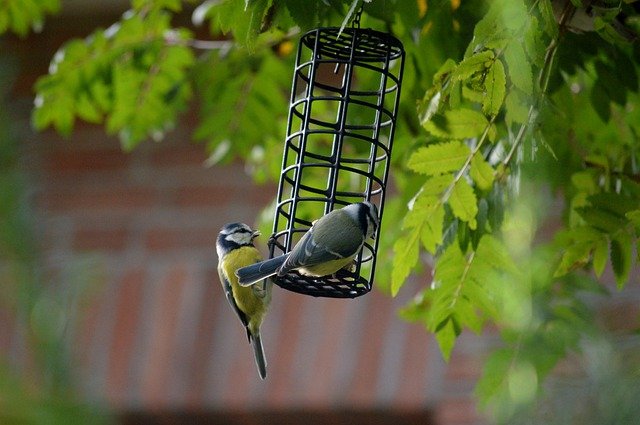 Finally, a nesting box. Certain species prefer different openings than others. Some like the classic holed versions (though hole size varies with species). Others, like Robins, prefer an open fronted type, so bear that in mind that if you want to encourage a particular species. Not only does putting nesting boxes in your garden give the birds a chance to rear young, but also gives you the chance to see an amazing part of the birds life-cycle.
Watching birds from the comfort of your home helps you learn the more common bird species, their mannerisms, as well as the variation of plumage throughout the year. This gives you a good basic knowledge for when you progress into watching birds in the wild.
Get a Good Field Guide to Birds
When you begin birdwatching, a good bird book is crucial to identifying that unusual bird that has just landed on your bird feeder. But, it does more than that. A regular flick through helps you get a good idea of colours, shapes and sizes, so you will remember them when you spot a bird out and about on your next adventure.
Bird guides not only have visuals of birds, whether male, female or fledglings, but also helps with winter and summer plumage. It will also give you a good idea on what species to expect for a given environment.
I'd recommend the RSPB Handbook of British Birds for a first choice. If you want something a smaller for the backpack, then the RSPB Pocket Guide to British Birds is a great choice. For those wanting a guide to pretty much every bird you could encounter from the Scilly's to Shetland Isles then The Collins Bird Complete Guide to the Birds of Britain and Europe, is the bible when it comes to British birds.
Let's not forget a good App! I highly recommend the Merlin bird app from The Cornell Lab. It's free for both iPhone and Android in the app-store but, like many apps, it'd difficult to get a broader view that a physical book can offer.
Get some Binoculars
Some good binoculars are a must when it comes to birdwatching. You can go for a cheaper pair, but I'd advise to go that bit extra and get some in the midrange bracket. The extra quality and features can go a long way to a better experience, not just for birdwatching but also for general views on a hike or camping trip.
Many newer binoculars aren't the bulky items of old, and will last a lifetime. If you need to go smaller, the same manufacturers offer monoculars small enough to fit in your pocket. However, you don't get the same views as a good pair of binoculars. 8 or 10 times magnification is the ideal range for birds and wildlife, giving close up views without hand wobble or a narrow field of view. Read more on the best binoculars for birdwatching.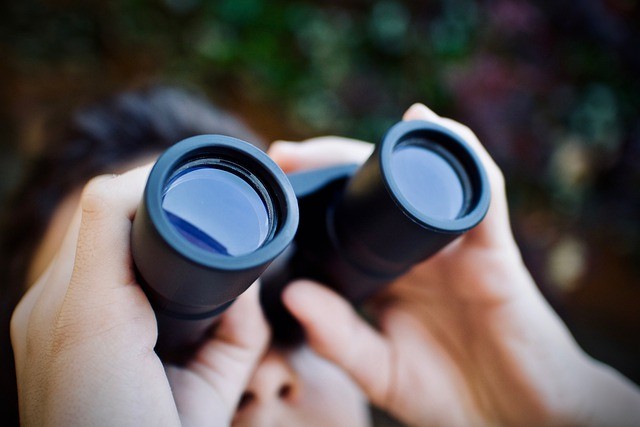 Learn Fieldcraft
Fieldcraft is much overlooked when it comes to viewing birds or wildlife in nature. It's all about walking quietly, not make any loud noises or sudden movements, and not dressing in bright colours. A careful slow walk, avoiding snapping twigs or rustling leaves, will bring some amazing sights and birds that come closer than you'd ever imagine.
The other part of fieldcraft is observation. Open both your ears and eyes, listening for movements in the hedgerows or flicking of shapes above. Fieldcraft becomes second nature with practice, and you will realise how much of nature you missed before.
Learn Bird Calls and Song
Another important aspect when you begin birdwatching is to learn bird calls and songs. Once committed to memory, this skill can help you identify birds you know, but also alert you to something different or special in the area. Learning the calls can also help you more appreciate the beautiful sounds around you, and stop you taking those songs for granted.
There are many ways to learn bird songs. There's YouTube videos, the RSPB website, bird call CD's, apps, as well as from the experience of identifying a bird singing and making that connection the old fashioned way. The free Merlin app mentioned earlier also has a sound ID function to detect and identify bird calls for you.
Find a Local Nature Reserve
Birdwatching can be done anywhere, from the comfort of your home, a city centre, or your local hiking spots. But to truly get the chance to see a variety of species, a local nature reserve or birding location can make all the difference.
Many birdwatching groups have websites listing sites of interest in their local area. Or, you can join a wildlife trust group local to you. It costs a couple of pounds a month, but you get free parking on their sites as well as benefitting from a well maintained walk, while giving a little back to help the sites and birds to flourish.
Begin Birdwatching and enjoy being out in Nature!
Birdwatching is the perfect excuse to get out in nature. It adds even more interest to a hike or camping trip, and is an easy way to get closer to the abundant natural history around you. It also opens you to some of the spectacles of the natural world, such as thousands of starlings in a murmuration, watching kingfishers diving for fish, or the mating dance of great-crested grebe to name a few.
When you begin birdwatching, you can add a little extra to your next outdoor adventure. It opens your eyes to the wonders all around, while getting some fresh air and exercise in the process.