With such a variety of brands, prices, sizes and technical features, choosing the best binoculars for your needs can be overwhelming. If you are looking for the best binoculars for birdwatching UK, or further afield, this guide gives you the important features to look out for.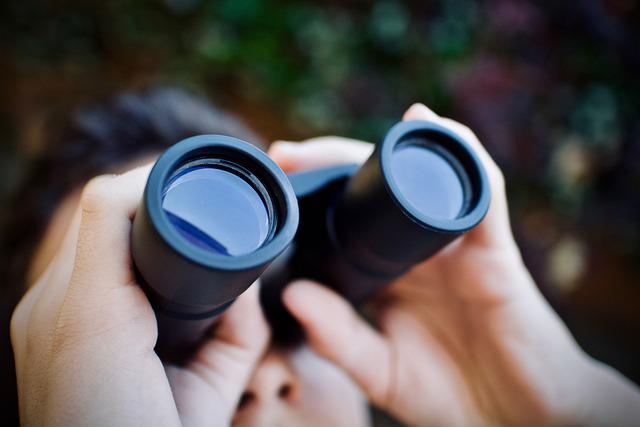 When choosing the best binoculars, you need to think about what you uses and needs are. Whether it is for general usage, bird and wildlife spotting, casual astronomy, sailing or for better views on those hiking adventures, the best binoculars can make all the difference.
The next big decision is your budget. Buying cheap binoculars may leave you disappointed with their poor quality build, or optics that are next to useless. However, there is also no point in overspending on features that you don't need.
Finally, another area to consider is the practicality of the size and weight of the binoculars. Too big and you'll never carry them. Size isn't everything in the binocular world if they are too cumbersome to grab on your way out the door!
Let's break these points down to some manageable chunks.
Binocular Types and Size
There are two types of binoculars, the roof prism and porro prism.
Porro prism binoculars are the typical older style with the eye pieces closer together than the objective lenses (the opposite lenses that the light comes into). Porro prism binoculars tend to be larger, easier to produce, and are at the cheaper end of the market (although these can also become expensive for larger sizes). I wouldn't discount these if you budget wont allow anything else, but expect some weight and physical bulk to them.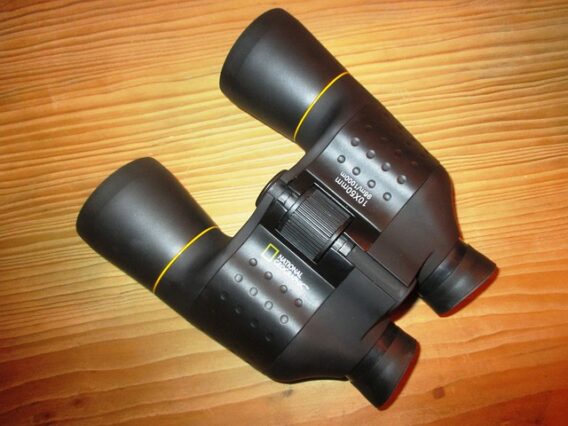 Roof prism binoculars are a modern style with a straight body shape. These vary in price from a few tens of pounds well into the thousands, and sizes to suit from tiny pocket sizes upwards. If your the budget allows, this would be my personally recommended choice.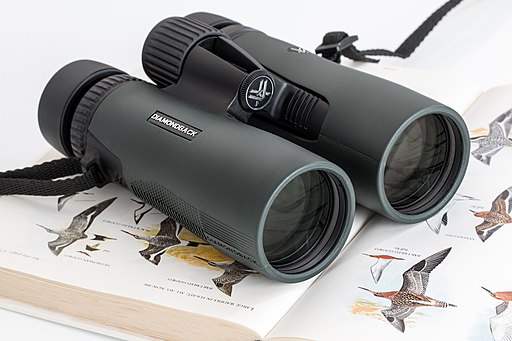 Objective Lens Size and Binocular Magnification Numbers
Along with types of binoculars, the next thing to consider is size of the objective lenses (the opposite end to you look through) and magnification. When looking at binoculars online, you will see numbers such as 8×42 or 10×50. The first number is the magnification size, the second is the size of the objective lenses in millimetres.
So, how do you know what magnification or lens size you need for binoculars? Let's break those things down.
What is Objective Lens Size?
The larger the objective lenses, the physically larger the binoculars. But there are benefits to larger objective lenses. They let more light through for a brighter image, and in lower light conditions this can be a bonus. Yet, on the flip side, larger lensed binoculars are also heavier. This means they are harder to hold and keep stable when looking through them, or when carrying them around your neck.
The best binoculars for birding, wildlife watching, rambling and hiking, are the compact types in the 20-25mm through to 42mm range, and the larger end of the smaller roof prism binocular types.
To give an indication of weight, an 8×32 pair could be 405g whereas the 8×42 could jump up 692g, a fair difference when out for a few hours of walking. These figures reduce in many cases as you work up the budget, as more specialised materials are used to reduce binocular weight.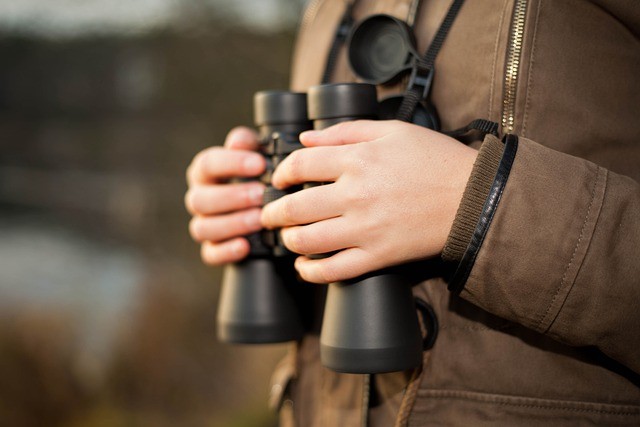 Binocular Magnification
A common mistake many people make is that they assume more magnification is better. The downside to this is that more magnification means less stability when holding your binoculars for any length of time. Also, the field of view (the amount of the image you can get in your vision) is narrower and harder to locate items easily.
Good binocular manufacturers give a field of view figure in their product descriptions.
For example….
8×42 could have a field of view quoted as 399ft/133m @ 1000yds/metre. This means that at 1000 metres out, you can see 133 metres across.
The same binoculars with a 10×42 (10 times magnification rather than 8) that would reduce to 330ft/110m @ 1000yds/metre.
This seems trivial, but in reality it makes a vast difference when trying to find something, and also when you put the binoculars to you eye and hold your gaze for any length of time.
Finally, another thing to consider is the minimum focus distance, usually quoted in metres/feet. This is purely how close an object can be for the binoculars to be useful. Good binoculars will allow minimum views of 2 metres or so.
External Features to consider when choosing Binoculars
Now we've looked at the basics of types, sizes and magnification, its time for the wider range of features you'll see advertised. This includes Body Material, Waterproofing and Fog Protection.
The Body
Underneath the rubber coating of binoculars is the body, or to be more specific, the chassis. In cheap binoculars, this is usually made from a polycarbonate plastic. Midrange priced binoculars usually use aluminium, through to the high end models that use even lighter magnesium.
Plastic types may still be a good choice from quality manufacturers, as these can be lighter and deal better with changes in temperature. However, they don't have the robustness of the metal chassis of other models, and they just don't feel as quality in the hand. Again it comes down to budget. Most good manufacturers will also give a temperature range for usage, -40c to +70 for example.
Dust and Weatherproofing of the Chassis
Look for a product that says its fog proof and waterproof, as opposed to weather protected or something similar. The better binoculars are usually nitrogen filled/purged and can mention an ipx7 feature (a waterproofing test) as well as grippy outer casing. This make them especially useful in wet or wintery weather.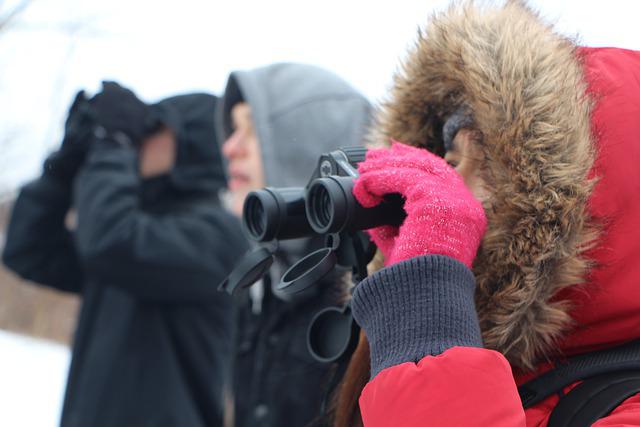 Binicular Eye Cups
Good binoculars will come with eye cups (at the end you look through). These are either a rubber fold down style, or will have twist down. There are to ensure the correct distance from the eyes. For example, down for people who wear glasses, up for those who don't.
Diopter Adjustment
This is an adjuster on one eye piece that allows you to focus one eye differently, to allow for variations from your eyesight left to right. Some are standard twist operation, where better ones allow you to lock a position in. Both are worthwhile and can be an important feature for those with varied eyesight.
Lens and Prism Coating
The best binoculars have fully multi-coated lenses. These allow more light through for clearer, brighter images. Also look out for BAK-4 prisms or silver coated prisms, again for brighter images and far superior views. There are also phase-corrected coated prisms, which give an accurate colour representation and can be helpful when looking at a silhouetted object. Like everything else, this can increase costs but is highly worthwhile compared to aluminium coated ones.
ED Glass Binoculars
If your budget can stretch, the better binoculars will be stated as ED glass (extra low dispersion glass). ED glass stops the colour fringing when looking at things against a bright sky, for example. These types of binoculars are in the mid to higher end range, but are becoming lower in price with each year that passes. They aren't necessary for occasional use, but once you have got used to the views, its hard to go back to non ED binoculars.
So what are the best binoculars for birding, wildlife watching and stargazing?
As with any purchase, there are so many variables to take into account. But, quality will always outshine the cheap, and a good quality pair of binoculars will last decades if not a lifetime.
If you are looking for something to pop in your pocket when going for a daytime walk or ramble, I'd recommend an 8×25 or 10×25 (10x depending on your hand stability). Or, if you want better views of birds/wildlife and are happy with a pair around your neck, a 8×42 or 10×42. All are very common manufactured sizes.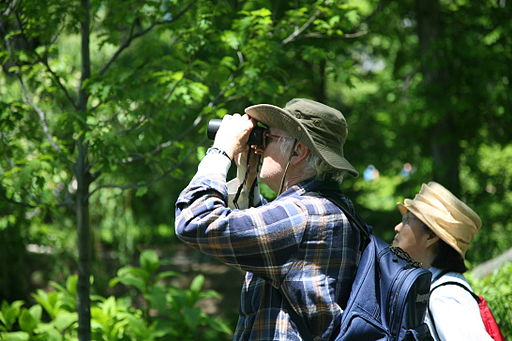 Personally, I'd avoid any that state they are adjustable magnification such as 10-25x etc. Thse types are usually poorly manufactured. It is also best to avoid anything larger than 10x magnification, unless you want to use a tripod, as the hand wobble is usually too great to get stable views.
Below are a few binocular recommendations to suit all budgets. All are from good manufacturers with a tried and tested history of quality. The list features many Hawke products. I am not personally sponsored by Hawke but I use their range personally as they carry a lifetime no fault warranty and are quality made.
Best Budget Binoculars
These waterproof, nitrogen-filled roof prism binoculars feature precision mechanics. High light collection power and excellent image reproduction are produced by the high-quality optics and large diameter.
The 8x magnification is ideal for nature enthusiasts, and the prisms are made of BaK-4 glass. At a distance of 1000 metres, a 42 mm lens produces a field of view of 105 metres.
LE eyepieces, centre wheel focusing, TwistUp eyecups, full multicoating, and diopter compensation are also included, as well as a tripod connection thread.
Weight: 532 g / Dimensions: 150x123x51 mm
---
A compact design that's a pleasure to carry in the pocket.
Fully Multi Coated optics and BAK-4 prisms.
Pop-up eyecups allow spectacle wearers to get the full field of view.
Dimensions 163mm x 133mm x 58mm
Magnification 10x
Fully Multi Coated
Great quality for a low budget pair of binoculars. Check the latest price.
---
Multi-coated optics. Twist-up eyecups for fast adjustment.
Waterproof and fog proof. Protective Rubber coating prevents moisture and dust.
10x magnification
Moisture resistant neoprene carry case.
Limited lifetime warranty.
A versatile pair of roof prism binoculars that are ideal for many outdoor activities. Check the latest price.
---
Best Mid-Range Binoculars
Sharp images are produced by multi-coated optics.
BAK-4 roof prisms.
Rubber coated focus wheel – Close focus From 8.2ft/2.5m.
Rubber coated chassis is lightweight and durable.
Lens covers stay on for maximum protection.
Twist-up eye cups with position stops.
Comes with neck strap and carry case for protection and storage.
Weight 650g.
Not only do these binoculars provide a clear, high-resolution view of distant subjects, but they are also light and comfortable to hold. This combination of superior performance and ergonomics makes them an ideal choice for any outdoor enthusiast. Check the latest price.
---
Sharp, clear, bright vision – Extra-Low Dispersion (ED) glass for maximum clarity and light transmission while minimising colour fringing.
Waterproof and fog proof – shockproof housing and a high-grip outer shell. Ideal for safari, birdwatching, and wildlife viewing.
Easy to focus – only 1.2 turns of the focus knob to achieve close focus from 6.6ft/2m.
Hawke lifetime warranty.
These authentic high-performance optics will take your wildlife watching to the next level! Check the latest price.
---
Best High-End Binoculars
Extreme heat and cold resistance – tested in extreme operational conditions ranging from -15°C to +55°C and storage temperatures ranging from -40°C to +70°C.
Excellent viewing in all weather conditions – Superior optical systems and extra-low dispersion glass produce stunning colours, sharp images, and excellent light.
Waterproof to IPX7 with fog proof nitrogen purged lenses and a hydrophobic coating to repel water, all fully tested and quality control inspected.
Smooth precision-engineered focus knob with only 1.5 turns and close focus from 6.6ft/2m.
A stunning pair of binoculars for bird watching, and comes with the Hawke lifetime guarantee! Check the latest price.
---
APO Glasses
Wide angle optical system – a stunning field of view, high performance lens coatings and dielectric coated prisms to provide the best light transmission possible.
Ideal for extreme conditions – a magnesium alloy chassis with soft touch rubber coating provides strength that has been tested in extreme conditions and quality control inspected for total reliability.
Waterproof with an ipx7 rating, fog-proof nitrogen-purged lenses, and a hydrophobic coating to repel water.
If you need a performance pair of binoculars for all climates and conditions, you can't go wrong with Hawke APO. Check the latest price.
---
Victory Pocket also has the largest field of view of the Zeiss range, from 130 metres for the 8x to 1000 metres for the 10x
High colour fidelity, image definition, and contrast.
Victory Pocket is at the leading edge of lightness, compactness, and design.
Shoulder strap, belt loop pouch included.
If you are looking for a compact yet powerful pair of binoculars while out in the field, Zeiss Victory Pocket are easy to carry and simple to use. Check the latest price.
---
Experience perfect ergonomics that ensure maximum comfort.
Conquest HD includes everything you need to venture into the unknown.
High-definition lens system provides incredible observation capabilities due to its neutral and clear colour reproduction.
The conquest HD's approved Carl Zeiss T * multi-layer treatment ensures a higher transmission of 90% – ideal conditions for impressive observations at dusk.
Field of vision 1000 m:115 m.
Lightweight, compact and durable.
For those who demand excellence, there is no better choice than the Zeiss Conquest binoculars. With an exceptionally clear and bright viewing experience, the Conquest binoculars are some of the set of optics on the market. Check the latest price.
Bird watching is an incredibly popular hobby, and with the right set of binoculars, it can be made even more enjoyable. These are some of the best binoculars for bird watching UK. So if you are planning a wildlife staycation, or simply looking to escape to your local hide, there is a pair of binoculars for your needs and budget.