Plastic free living is not easy. Plastic is everywhere, not just as litter and waste, but in the every day things we buy and use. Take a moment to look around your home. Plastic kettle, coffee machines, milk bottles and grocery packaging, desk lamps, picnic ware… even at home we are surrounded by plastic, often overlooked.
The more often we make plastic free choices, we lessen the demand for plastic products. While it might seem like an ant trying to move a mountain, if we all work together to commit to being as plastic free as possible, it sends a strong message.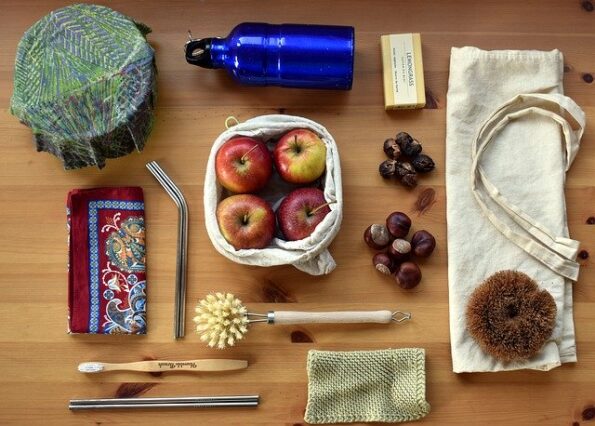 Using plastic is unsustainable and with so many chemicals involved in the manufacture and final products, it is harmful to the environment and to health too.
How many cups of tea have been drunk from boiling water in plastic kettles? How much of that plastic has degraded over time and been ingested? How many of us even think about plastic kettles? That is just one example of something most of us use every day without even thinking about it. It's time to change.
Here is the ultimate guide to plastic free living. It is divided into 'life areas' such as kitchen, bathroom, personal care and out and about. Even if we all made just a few changes, it would have an impact on the environment and our health.
Let's dive in!
Plastic Free Kitchen
Most of us will find plastic in the kitchen. It doesn't make sense to throw out things just because they are plastic, especially if they are items that don't have heat applied. It is more sustainable to use them until they need replacing and then choose plastic free alternatives. Plastic bowls and utensils can last years, and as long as you don't heat food in them, leaching will be kept to a minimum.
The biggest problem in the kitchen with plastic, it the use of throw-away plastics such as cling film, and plastics that regularly have heat applied. Easy Swaps for a Plastic Free Kitchen are:
Cling Film – swap for reusable silicon lids or beeswax wraps. It is easy to stop reaching for the cling-film when you know the alternatives. Read more in depth about alternatives to cling film.
Plastic Kettle – swap for stainless steel
Bin Liners – The problem with black plastic bin liners is that they take time to break down, are not biodegradable and millions of them end up in landfill. They contribute an enormous amount to plastic waste, but there are eco-friendly alternatives. Try compostable or biodegradable bin liners instead. You can get them in large sizes, even as big as your wheelie bin!
Plastic Bowls, Plates and Utensils – If you already use plastic plates etc., then it makes sense to keep using them rather them throwing them in the recycling for the sake of it.
The issue though is with hot foods. Heat and plastic are not a great, as heat can cause some chemicals to leach into foods. Use for cold foods only, replace with alternatives when worn out of for hot foods, such as these cute bamboo plates by Little Foodies, and wooden utensils.
Coffee Machines – If you can't get by on instant coffee and use a coffee machine for your morning brew, swap to a plastic free coffee machine made from stainless steel, or one that uses plastic free coffee pods. You can also brew a cup of Joe on your hob.
Straws – We all know straws are fun, but plastic straws are a waste of time.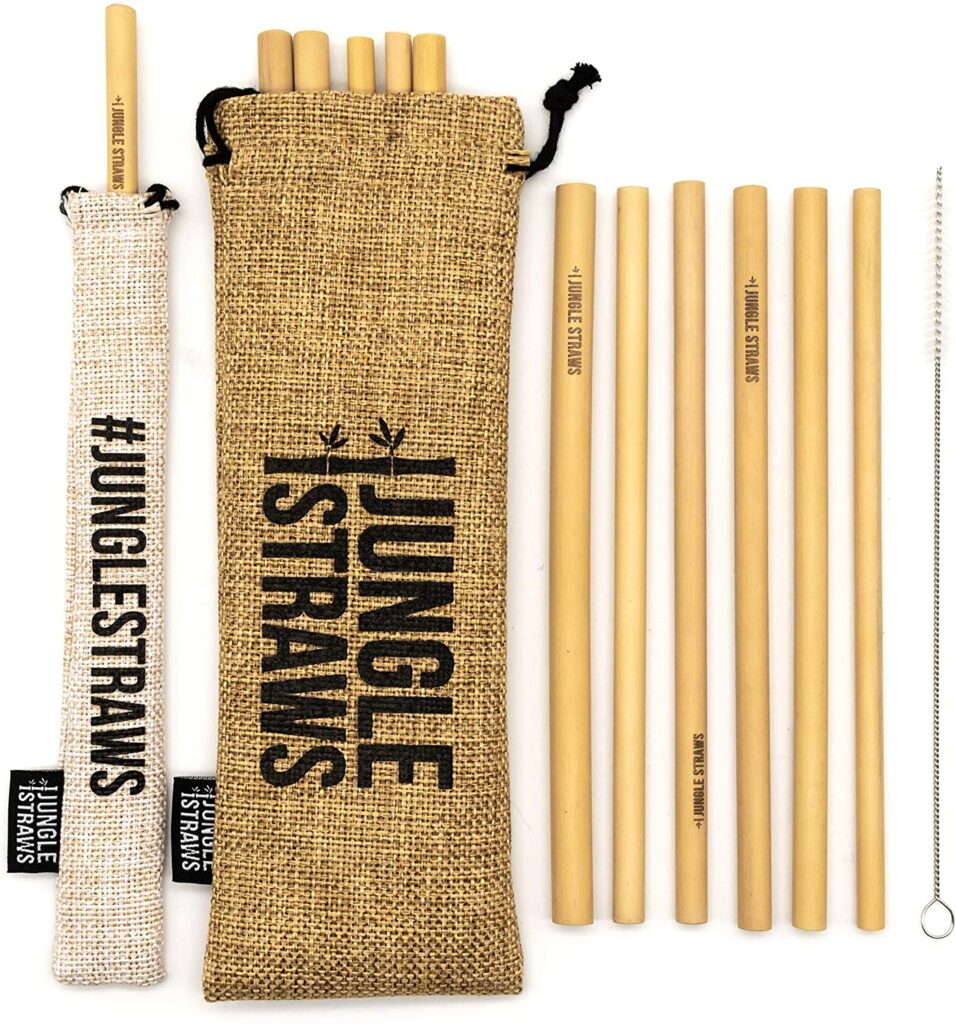 Follow many high-street restaurants, cafes and pubs and go for paper straws or reusable silicon, bamboo or stainless steel straws.
Reusable straws also come with their own cleaning brushes.
Plastic Free Washing Up – There are loads of products out there for doing the dishes. Plastic scouring pads send tiny pieces of plastic into water systems. Choose plastic free washing up!
Compostable sponges and scourers are a great place to start. See my Loofco washing up sponge review. For heavier scrubbing, try the Eco Coconut scourers.
Plastic Free Bathroom
In the average bathroom, there is an array of plastic bottles. From toothpaste tubes to shampoo, most of the product we use come in plastic packaging and containers. When you begin to look at plastic-free alternatives to bathroom products, you'll be amazed at what is available. Here are some ways to lessen plastic use in the bathroom.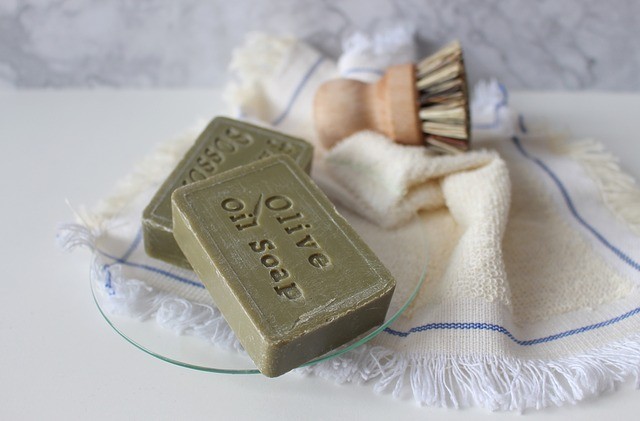 Toothpaste – Most of us buy toothpaste in tubes, but did you know that you can buy it in cardboard boxes as handy pea-sized toothpaste tablets? This is a zero waste and convenient way to get just the right amount of toothpaste for daily brushing.
Dental Floss – Dental floss contains plastic, but there are alternatives such as this mint and ginger flavoured floss. Avoid those little plastic handles that hold the floss. It's just as easy to hold it with your fingers!
Shampoo – Have you ever considered using a shampoo bar, instead of liquid shampoo that comes in a plastic bottle? Why not give it a go?
Like a bar of soap, you add water to make a lather to wash your hair. You can get the same fresh and clean results as with 'normal' shampoo, with no plastic waste.
This shampoo is a high lather formula by Palestren, and this brand is so confident you'll love it, that they offer your money back if you don't like it!
Toothbrushes – You may have seen bamboo toothbrush alternatives to traditional plastic versions, and if you are used to a manual toothbrush that that is a great option.
But what if you already use an electric toothbrush? Should you just throw it in the recycling? The good news is that you can still use an electric toothbrush and be kinder to the environment. Brush heads that are compatible with Oral B and made from recycled plastics are available, and ones that use charcoal for the bristles.
Even better, the LiveCoCo company offers a recycling option where you can send your old toothbrush heads to be made into new ones, creating a closed loop system.
Loo Roll – Isn't it annoying that loo roll comes in plastic film packaging? Well did you know that you can get sustainable toilet paper made from bamboo, delivered to your door, with no plastic film? Well, you can! Also, it is just 53p per roll!
Shower Exfoliators – Forget about those silly plastic shower scrunchy thingys! Treat yourself to a set of natural cleansing shower puffs with charcoal and green tea! Loofahs work great too, and can be put in the compost when worn out.
Cosmetics and Personal Care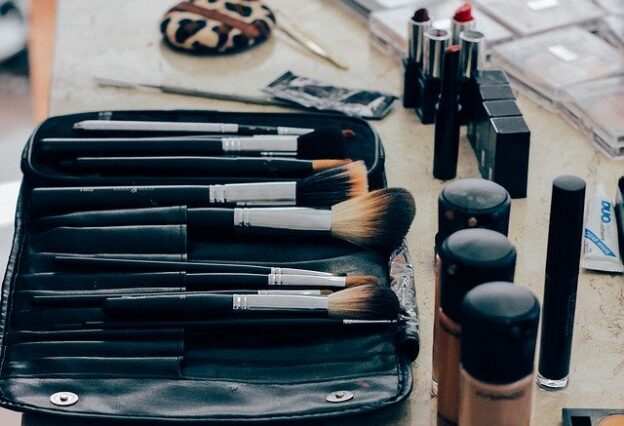 Make-Up Pads – If you use baby-wipes to remove your make up, or throwaway cotton pads, then you will be buying plastic packaging, even if there is none in the product. Bambaw make up remover pads are a pack of soft velvet pads, as well as face-scrub pads, all made from sustainable bamboo. When you've used them, they have a little laundry bag and can be washed and reused. No plastic in sight!
Menstrual Products – Ladies, tampons are not sustainable. Mostly made from cotton, one of the thirstiest and most soil-depleting crops on the planet. Some brands of tampon also have plastic applicators to make insertion easier. I'm talking about you, Tampax Compact! Even the paper tampon applicators may have a thin plastic film. Sanitary towels have plastic backings, and just go to landfill.
So what about plastic-free period products? There are a few options.
Menstrual cups are made from medical grade silicon, and while this is a type of plastic, it is preferable to tampon use from an ecological point of view. This is because one menstrual cup will last you for ten years or more! Imagine how many tampons that would be getting flushed! Imagine how many applicators in landfill! If you are not sure about trying a menstrual cup, read my reviews of Mooncup and PixiCup.
Period Pants are another alternative to tampons and sanitary towels if you can't face the idea of a menstrual cups. This is wearable period wear that look just like underwear. It protects your clothing just like a sanitary towel. You simply pop them in the wash and it can be reused.
Just prefer a simple pad? Eco Lily make absorbent, washable sanitary towels that can be reused. They have different options for medium and heavy flows, so you can pick just the right pad you need for your period stage.
Deodorant – It's not often you find a good natural deodorant. Especially one that has no plastic packaging, and is also affordable! YourNature make a sumptuous range of handmade, natural deodorant sticks. Not a whiff of plastic! Check them out!
Plastic Free Cleaning
It is unfortunate that so many cleaning products have plastic packaging and are full of harsh chemicals that are harmful to the environment. This can also create a toxic soup in your home. We all like a clean home, and to make sure that it is free from the bacteria that can cause illness, but did you know that can be achieved with natural products? Even basic vinegar is effective at killing E.coli!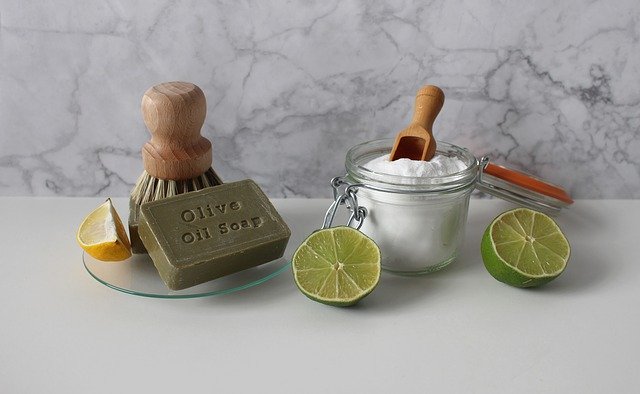 To have less plastic waste and a harmonious, clean home, here are some everyday swaps you can make to your cleaning.
Cleaning Refills – If you have old plastic spray bottles, you don't need to put them in the recycling. They can be reused with these fabulous cleaning refills by Ocean Saver.
They do a range of cleaning bottle refills, such as surface cleaners and glass cleaners, in delicious scents such as pomegranate and rhubarb.
All you have to do is put the pouch into the bottle and add water. Not only that, you will save money too as these refills cost less than buying a new bottle of spray!
Reusable Paper Towels – You don't have to waste precious resources or money by throwing away sheet after sheet of paper towel. EcoBees has come up with a solution, and that is washable bamboo towels. Absorbent and strong, one roll of these has 20 sheets, each can be used approximately 100 times. Just throw in the washing machine and it's ready to be used again.
Out and About
We all have jobs to do, and when we're out and about it can be easy to reach for convenient plastics. Whether you grab a coffee on the go, buy a bottles drink, of pay 5p for a plastic bag, all these things contribute to the environmental effects of plastic. Unless, you have alternatives.
Thirsty? – If you love a proper coffee from your favourite high street café, take a refillable coffee cup with you. Most places even offer you a discount for doing so!
For hot or cold drinks, an insulated stainless steel flask works wonders. Keep cold drinks icy for hours, and hot drinks hot! These stainless steel flasks by BOGI come in loads of colours and are the ideal size for taking out in a bag or pocket.
Shopping Bags – If you are just popping to a local shop for a few items, you might not want to take a huge bag with you. These lightweight cotton shopping bags are easy to pop in a pocket.
Produce Bags – if you are going to buy fresh produce, use a reusable produce bag instead of the plastic ones at the supermarket.
Dog Poo Bags – It's not glam, but it has to be done… picking up after your dog.
Most dog owners are conscientious about this, but how many time have you been out for a walk and seen small, black plastic bags, full of poo, dangling in a hedge? It's disgusting. If there are no bins around and people can't be bothered to carry poo, it would be better to just flick it into the hedge with a stick than use a plastic bag. Rant over!
For doggie droppings, choose EcoPaw biodegradable poo bags. Then, even if it does end up in a hedge, (which it most certainly shouldn't) at least it's biodegradable.
Because there is so much plastic in use for every day things, it is not always easy or obvious how to reduce plastic use. But, when you just commit to making a few changes, it makes it easier to do more. The more we change, the easier reducing plastic becomes.
Tell us your best plastic free alternative! Is there anything else you think should be added to the list? Please add your top tips for reducing plastic.