Battery powered chainsaws can be one of the best outdoor tools. From cutting up firewood to felling trees, gardening, outdoor projects, and even chainsaw carving, a chainsaw is a tool with many uses. But, using a chainsaw can be daunting for beginners.
If you are looking to buy a battery powered chainsaw, or want to use one to make outdoor jobs easier and quicker, we have some top tips!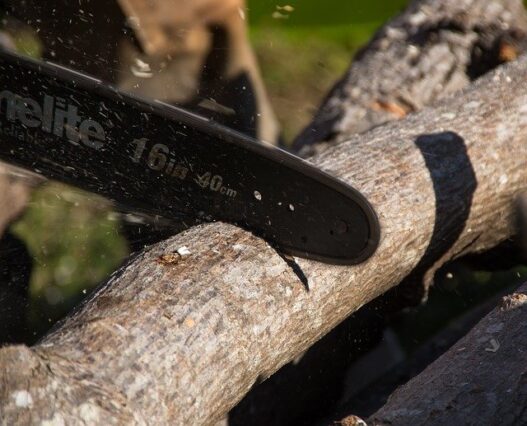 The Right Chainsaw for the Job
Is the type of chainsaw you have right for the job you want it to do? Felling large trees would require a large, powerful chainsaw, whereas a smaller version is best for sawing up firewood, clearing smaller trees and undergrowth, coppicing, and also for domestic projects.
If you need your chainsaw to work away from home, or you just don't like the idea of cutting through cable, a cordless battery powered chainsaw is best. These are less messy to use than petrol powered chainsaws.
Corded chainsaws, with a cable connected to mains power, also work well for garden jobs, but you do need to be careful of the cable.
Benefits of Battery Powered Chainsaws
Cordless, battery powered chains saws are a fuss-free alternative to petrol chainsaws. They are lighter, offer greater versatility, especially if you want to move from one area to another.
You don't have to carry petrol with you, or put it in your chainsaw tank. When you use a battery powered chainsaw there is no pollution or fumes
If you buy a spare battery, one can be charging while you use the other. This means you can keep your chainsaw running for a long time.
Here are some of the best small cordless chainsaws for beginners.
---
Einhell Cordless Chainsaw
A great budget friendly battery powered chainsaw.
The Einhell chainsaw takes the hard work out of many back garden jobs. Pruning trees, cutting up firewood, and any other sort of timber, this chainsaw does the job well.

Key Features
It is a good size and weight for beginners to handle, and has safety features built in.
• Durable metal stop claw to keep it stable when in use
• Ergonomic handle for firm grip
• Kickback protection is immediately activated if the saw rears up, stopping the chain
• Chain catch bolt to hold the chain in place if it comes off the rail.
As well as these safety features, there's more benefits to choosing the Einhell cordless chainsaw.
You don't need any special tools to adjust the tension of the chain, or to remove and replacing the chain.
There is a large opening for the oil tank, so adding oil is easy and without mess. Lubrication of the chain is automatic, so making sure there is oil in the tank is all that's needed.
The only negative with this cordless chainsaw is that you have to buy the battery and charger separately, but this is a quality piece of kit that will be an essential tool for many garden, smallholding or home projects, so it is worth paying extra for the battery.
Any 18 V power x-change battery and charger will work for this chainsaw.
---
PROS:
• Lots of built in safety features
• No tools required for removing the chain
• Easy to fill oil tank
• Budget friendly
CONS:
• Battery and charger is sold separately
---
Ryobi 18V ONE+ OCS1830 Cordless 30cm Chainsaw
This cordless chainsaw by Ryobi is a robust tool that can power through many wood cutting jobs.
From sawing firewood and logs of various thicknesses, to felling and pruning, this is a tool that excels at tougher jobs.
Key Features
High-performance 18V brushless motor technology has all the power you need to tackle long or tough sawing jobs.
30cm Oregon Bar and chain with a chain speed of 10 m/s. This makes light work of any wood cutting job.
The oiling system works automatically, so you don't have to worry about oiling the chain as long as the oil reservoir has some in it.
Tool-less chain tensioning, so no need to have extra tools to hand.
Mechanical chain brake for extra safety.
Like many other models of cordless chainsaw, the Ryobi is sold without batteries or a charger. However, any tools within the Ryobi One+ system use the same batteries and chargers. This can save you money if you have other Ryobi tools, or plan to buy some, as you can simply swap batteries from one tool to another.
---
PROS:
• Tough chainsaw for tougher jobs
• Automatic chain oiling system
• Tool free chain tensioning
• Mechanical chain brake
• Works with batteries from other Ryobi One+ tool range
CONS:
• The need to buy battery and charger separately if you do not use the Ryobi One+ system
---
BLACK+DECKER 36V Chainsaw

The Black+Decker 36V chainsaw is lightweight and easy to use.
It also has many safety features that make it ideal for a novice chainsaw user.
Key Features
The ergonomic design of this Black+Decker cordless chainsaw makes it comfortable to hold while in use. It is well-balanced in the hand, helping it to be securely held.
It weighs 3.8 kg, so is easy to carry and it won't strain your muscles when using for long periods like heavier models.
The powerful 36V battery makes this chainsaw able to do heavier-duty cutting, such as logging and felling trees, cutting firewood and other tasks.
It also comes with in-built safety features which prevent accident or injury so that you can use the tool with confidence.
Built in safety features include:

• Lock-off safety switch. This is where two switches must be pressed at same time to start the saw, so no chance of accidental start.
• Anti-kickback chain for added safety.
• The primary handle has a rubber, non-slip grip, whilst the secondary bale handle is clearly separated from the primary handle, so that the chainsaw is more comfortable to use.
• Handles are positioned to allow clear visibility of the chain whilst cutting.
There are no extra tools needed to tension the chain, it is adjusted using a dial on the saw.
Automatic oil system takes care of lubricating the chain, as long as you keep the reservoir at the required levels.
Let's talk batteries! The Black+Decker cordless chainsaw comes with a 36V lithium ion battery with a longer run time than NiCAd or NiHM batteries. On average this chainsaw offers 560 cuts per battery charge!
---
PROS:
• A lightweight chainsaw that's good for beginners
• Lots of built-in safety features
• Comes with battery and charger
CONS:
• It is hard to find a negative with this chainsaw! One user reported having to top up the chain oil fairly frequently.
---
Safety Comes First
A chainsaw can be a dangerous tool if the proper safety measures are not followed. It is basically a series of blades spinning around on a fast chain belt, so holding it correctly and safety techniques are essential to avoid injury.
• Make sure you have a firm stance when using a chainsaw, keeping feet about shoulder with apart so you have good balance.
• Remove trip hazards in the area you are working in.
• Never hold a chainsaw above you, such as to cut high branches. Always work below shoulder height. If you have to use a ladder or platform the do so, that is much safer than holding the chainsaw up.
• Be aware of kickbacks. This is where the guide bar of the chainsaw can suddenly fly up toward you, usually when the tip hits a knot in the wood or a nail. Avoid using the tip of the chainsaw.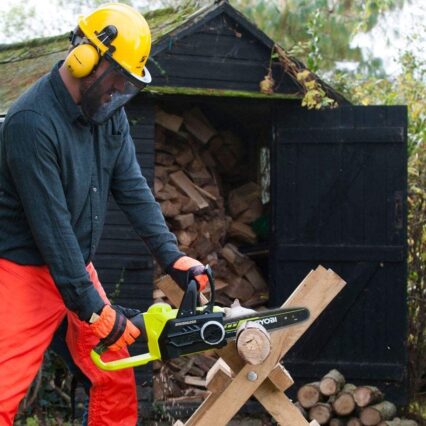 Is a Battery Powered Chainsaw Right for You?
If you want a fuss-free way to power through wood cutting jobs, you can't beat a cordless, battery powered chainsaw.
Lightweight, easy to start, and long battery life make then effective tools for many jobs, and with many safety features, they are less intimidating to use than petrol chainsaws.
If you have any chainsaw tips for beginners, please add to the comments.