Hiking poles have a reputation as being for older or serious hikers. But, using hiking poles, whether you've been hiking for years or are new to it, provides many benefits.
So whether you want to know the best hiking poles to purchase, how to use trekking poles, or are on the fence about the health benefits, stay tuned as we discuss them below.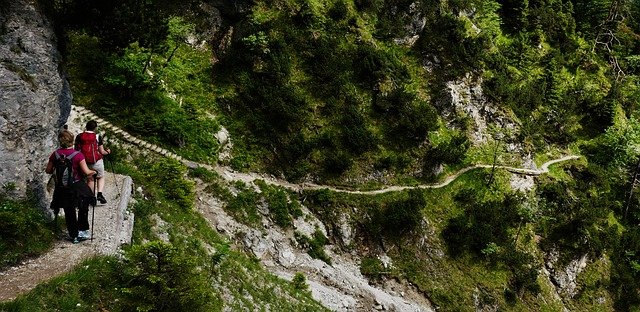 Health Benefits of Hiking Poles
There are many surprising health benefits of using walking poles. Here's just a few:
helps you maintain correct posture
help you create and keep momentum
improves balance and stability
protects your knees, especially when going downhill. Studies have shown hiking poles to reduce compression by up to 25%!
protects your spine, reduce lower back pain and strengthens muscles in your back.
When walking with a heavy backpack, you may also find the weight is distributed more evenly when using hiking poles. This helps protect your lower back and knee joints. Using trekking poles also help increase strength in your arms and shoulders, improving your overall endurance and power when walking.
For those with arthritis, using trekking poles is beneficial. Trekking poles help take some of the load from the lower back and lower limbs, making them a perfect option for anyone with knee or back problems.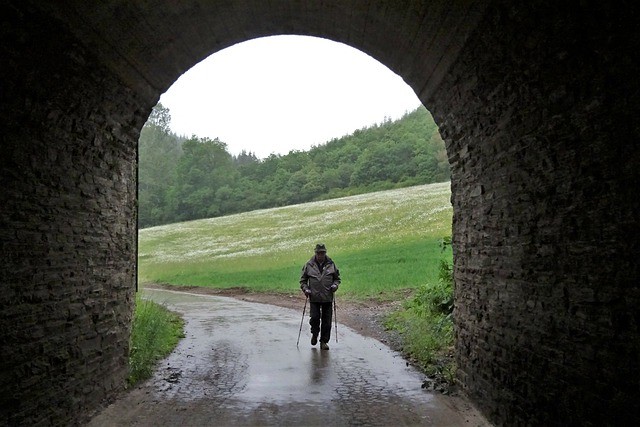 Environmental Benefits
When walking, you can double up your walking poles and use them as helpful guides when dealing with the elements. Here's how:
ever been confronted by an inquisitive cow or herd of bullocks? Hiking poles can be a deterrent to animals by making you appear broader or taller. This can especially be useful if hiking solo.
use them as a tool to clear thorny bushes or other vegetation from your path.
test the depth of water in a river, or snow depth.
some hiking poles can turn into ski poles with the help of an attachment.
certain brands of walking poles can double up as a tent pole for more lightweight travel or tent pole breaks.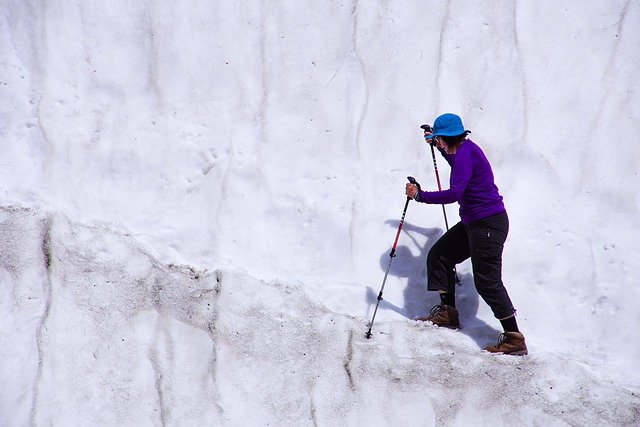 Buying The Perfect Hiking Poles
Knowing how to find the best hiking poles will be what helps you receive all the benefits above. Here are some things to keep in mind:
Weight
Weight is one of the biggest deciders in purchasing trekking poles. You'll need to find a pair of poles that feel sturdy and supportive enough but don't weigh you down when walking.
It may be worth purchasing a lighter pole if you go on long walks; if you prefer hills and mountains, a sturdier pole may benefit you more. Because of this, it's best to try different styles and brands before ultimately deciding.
Be aware that the sturdier and lighter options tend to be pricier because of the materials used to make them.
Length
With trekking poles coming in many different lengths and styles, it can feel overwhelming when choosing the right pole for you. Because of that, a good rule of thumb is to have the pole length set where you can grip the handle while your arm is at a right angle to the ground.
It is also wise to choose a pole can be height adjusted for different terrains.
Handle and Straps
Many walking poles come with a longer handle, allowing you to adjust your grip depending on the type of terrain and whether you're ascending or descending. Make sure it's comfortable in your palm, as too much friction will cause sores and become increasingly uncomfortable on your walk.
The straps also allow a different type of grip when worn, providing you with a more relaxed grip, allowing your wrist to flow with the pole's movement.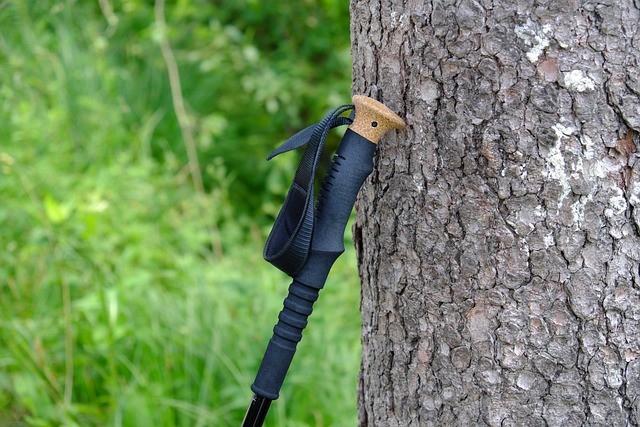 Collapsible Trekking Poles
If you're travelling or tying them into your rucksack, having collapsible trekking poles will come in great use. The smaller they pack down, the better, with some even collapsing down to 30cm, making them easy to place in a bag or place in luggage. If you are using them all the time, collapsible poles won't be as necessary.
Some Of The Best Trekking Poles
With so many poles on offer, it can be hard to know where to begin buying the best trekking poles. Here are just a handful of the best trekking poles out there that offer different styles for all different kinds of walkers.
Black Diamond Trekking Poles
Black Diamond trekking poles are perfectly made for running, walking, and trekking, with them being lightweight and foldable.
They currently offer three types of poles: Distance, Trail and Alpine Series. All three Black Diamond trekking poles are perfect for 3 season use, and Trail and Alpine are perfect for 4 season use.
The picture shown is the Alpine Lake model, made from aluminium and weighing in a 360g. They fold down and can be carried in a backpack. We also like the colour!
Fully adjustable to suit people of different heights, these Black Diamond hiking poles will see you through many happy miles of terrain.
Leki Trekking Poles
Both light and durable, Leki Trekking Poles are made from aluminium and carbon fibre. This makes them perfect for coastal, hill and mountain walking.
They come in various types and styles to easily be tailored to different types of walkers and activities.
Weighing in at a tiny 436g per pair, these Leki hiking poles are both lightweight and sturdy.
The Fit Life Trekking Poles
The Fit Life lightweight hiking poles are strong, but also better for those on a budget or who want to try them out without shelling out.
Easy to adjust, one size fits all. They fold down and can easily be stored in your backpack.
With super reviews, these trekking poles bring both good quality and value.
They also do a slightly more expensive version made from carbon, which is even more lightweight.
How To Use Trekking Poles
Walking with trekking poles is more about being keenly aware of shoulders and arms when you're walking. Other than that, how to use trekking poles is as easy as you can imagine.
Be aware that you can get the maximum benefits and begin slowly introducing trekking poles into your walk just like you would a new pair of hiking boots.
When walking, you should aim to do so in a normal and relaxed fashion but be aware of your posture when planting the pole. Aim a little ahead of your step, following the movement through before pulling the pole out.
Don't take giant steps to overcompensate. Just walk as you normally would but with the support of your walking poles.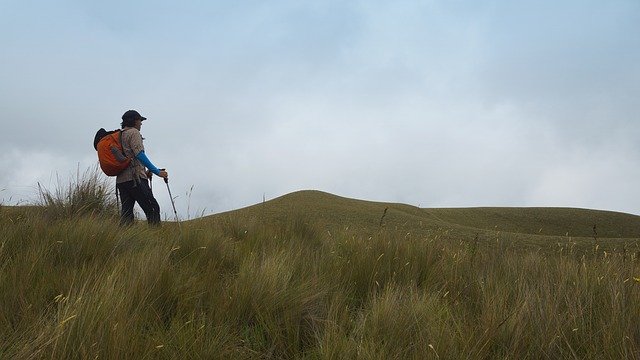 Hiking Pole Tips and Tricks
To maximize your hiking poles, it may be worth keeping these two things in mind when walking:
If the terrain is steeper on the ascent, you may find it more helpful to reduce the height of the pole to aid the climb.
If the terrain is more vertical on the descent, lengthen the poles to reach as far.
Frequently Asked Questions About Hiking Poles
What is the point of using hiking poles?
The top benefit is to give stability on uneven walks while protecting the lower back and knees and strengthening back muscles, shoulders and arms when walking.
Do hiking poles help prevent knee pain?
They do, especially when it comes to walking downhill as they direct some of your weight from your knees to the poles instead of putting increased pressure on them.
Can I use just one hiking pole?
Yes, you can, but you'll miss out on all the benefits of stability and support without two poles. But it all depends on the terrain.
How long should my hiking poles be?
While down to personal choice and types of terrain, a general rule is to make sure the top of the handle is at waist or hip level, or the top of the handle should be at the top of your palm when your elbow is at 90 degrees to your body.
Regardless of what kind of hiker or walker you are, there's a hiking pole out there for you. Whether going uphill, downhill or even along a flatter path, all you need to decide is which hiking poles you're going to try first.