With recent documentaries highlighting the effects of cotton production on the environment, sustainable fashion is growing in interest. Sustainable fashion brands are the go-to brands for those who want to do their bit to encourage slow fashion.
But what exactly is slow fashion and fast fashion, and while sustainable fashion brands are enjoying a surge of interest, can ordinary people afford to buy them?
What is Fast Fashion?
Fast fashion is the term used for cheaply made clothing that adorns the typical high street store. It is fashion that is mass produced, usually to cover the seasonal trends that appear on the fashion catwalks.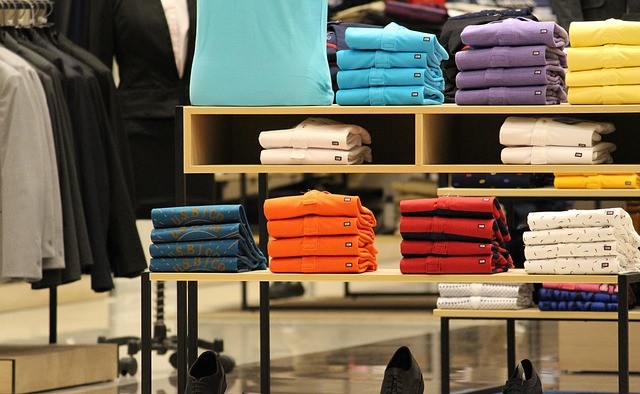 The problem with fast fashion is that it encourages a culture where clothing is used as throwaway items. Items are no longer in fashion if they are last season. Because they are cheap, they are low in quality so do not last long without losing shape or the fabric deteriorates.
There are also other negative aspects of fast fashion, such as the people who make the clothing often do so in bad working conditions and low wages. Otherwise, we would not be able to buy items so cheaply.
Why is growing Cotton bad for the environment?
Cotton growing has a huge, negative effect on the environment. Growing cotton on an industrial scale takes up vast amounts of water. To feed the thirst of these crops, rivers all over the word have been dammed and diverted to provide water for cotton crops. This has created devastating effects downstream, such as river beds drying up, the decimation of wild life and fish, as well as affecting the working lives of people who depend upon the river for their livelihood.
Cotton plants typically require the use of many harmful pesticides, and this has a damaging effect on other plants and wildlife. Animals who eat plants or drink water from rivers near cotton plantations become contaminated, as do the beneficial insects. The air surrounding cotton plantations also carries harmful dust that contains pesticides, causing an array of illnesses including throat cancer.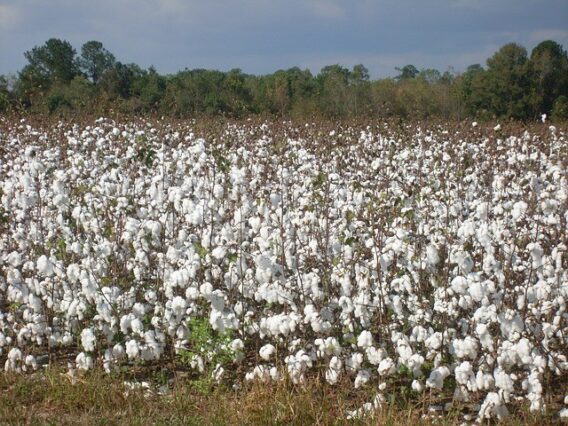 Cotton growing is a damaging activity, and it is fed by consumer thirst for fast fashion. Even organic cotton production that does not use pesticides still requires vast amounts of water. So what can we do to change things? Choose slow fashion, not fast fashion!
What is Slow Fashion?
Slow fashion is a term that is used to describe clothing that is produced from sustainable textiles, and without damaging the environment. It also supports skilled workers getting a fair wage and healthier working conditions.
Slow fashion items are made to last, so while they might be more expensive to buy you are likely to save yourself money in the long term.
Sustainable Fashion Brands
Thankfully, there are sustainable fashion brands out there, and they range from luxury to affordable. When making the switch to sustainable fashion, it can be tricky to know where to start. Here are some sustainable fashion brands that are growing.
Veja – Veja is a sustainable fashion brand that makes footwear for women, men and kids. They only use organically grown cotton and rubber that is tapped from trees by Amazonian communities, helping to protect the rainforest. They also make a vegan leather from corn waste that naturally biodegrades. Veja shoes look great too! Read more about their story here.
People Tree – founded by Safia Minney, People Tree is a clothing company where every item is made with the highest of sustainable standards. Fabrics include organic, sustainably grown cotton, Tencel and wool, and workmanship is by traditional, artisan crafts.
Patagonia – this company grew from humble beginnings, making tools for climbers. It still continues to produce clothing for sports such as climbing, skiing and mountain biking, as well as other 'silent' sports like trail running and surfing. Patagonia products are durable, repairable and made with least environmental damage as possible, including using materials that can be recycled.
Stella McCartney – this fashion designer is pioneering the way to sustainability for high street fashion, and produces clothing using materials that are sustainable. They also have open supply chains and look for circular solutions.
Komodo – this eco-conscious brand prides itself on creating affordable, eco-friendly clothing that is hot on style. Komodo uses quality, sustainable natural fibres as well a modern sustainable fabrics to create clothing, made with the welfare of workers a priority. They also support environmental and social projects in the UK and in countries where they manufacture.
Mayamiko – using handpicked textiles from the local market in Malawi, clothing is then manufactured in a nearby solar powered workshop by local tailors. This keeps the carbon footprint low as well as helping the local economy. Other materials include reclaimed silk and jersey fabrics. Eco-friendly dyes are used in the colouring and printing of textiles, including experimental dyes made from onion peel, hibiscus and avocado.
Open for Vintage – this specialist online store is where you can buy top designer fashion names second-hand, prolonging the life of quality made garments. High end fashion brands include Chanel, Dior, Yves Saint Lauren, McQueen, Givenchy and more. At Open for Vintage, you get to shop for designer clothes, get them at lower prices than if they were new, and you are keeping them in circulation for longer.
Natural Collection is a company that stocks sustainable fashion brands such as All Riot, Ally Bee, Asquith, Bibico, Boody, Colin Leslie Eyewear, Doris and Dude, Elvis & Kresse, Ethletic, Kashka London, Komodo, La Jewellery, Limebox Tees, Made Jewellery, Marzipants, Matt & Nat, Mosami, Mudd & Water, Nancy Dee, Nomads, Pachamama, Patagonia, People Tree, Silverchilli, Silverstick, Studio Jux, Thought (formerly Braintree Clothing), Turtle Bags, Votch and Wilby & Co ltd.
I'll keep adding to this list of sustainable fashion brands as I find out more. If you know of any others, please share in the comments.