How often do you grab a coffee-to-go from your favourite shop? Everyday… once or twice per week, or maybe just at weekends? When you have slurped down your brew, you might not have thought much about where you put your coffee cup. After all, they are mainly just paper aren't they?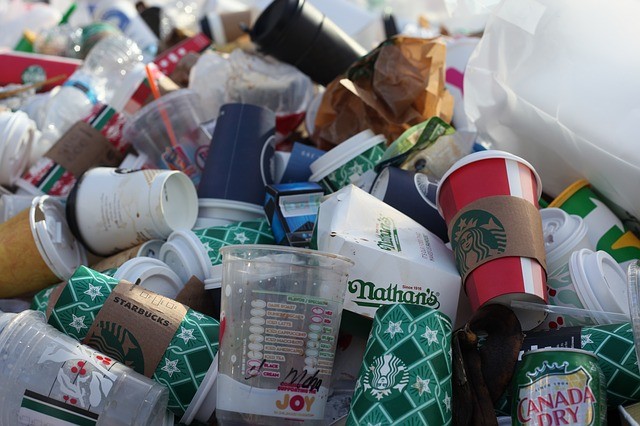 Well, no. The paper coffee cups we get from stores all over the world are lined with plastic to keep them waterproof, so your hot beverage stays inside the cup and does not leak through. This means that paper coffee cups cannot be recycled along with normal paper and card.
The lids, are also single use plastics, and are considered too difficult to recycle because they are usually made from hardened polystyrene.
It's time to do our bit!
The point is that we can all do our bit to stop single use coffee cups, and all you need to do is have a reusable coffee cup with you.
Thankfully more people are seeing the problem of single use coffee cups, and lots of major coffee stores now offer customer discounts if you bring a refillable coffee cup with you. With discounts on your favourite lattes, and lowering plastic in the environment, now's the time to buy refillable cups.
Reusable coffee cups are easy to carry with you in a bag, or you could keep one in your car. Not only are you doing your bit to help the environment, but reusable coffee cup look good too!
With different brands using different materials to make coffee cups, it can be difficult to know what to look for. Here are some of the best reusable coffee cups to buy right now.
Bamboo Reusable Coffee Cups
One of the best things about bamboo is that, when responsibly sourced, it is a sustainable material. Bamboo is a large grassy plant, and can simply be cut when at the desired size. The plant will grow again, just like regular grass.
Bamboo puts more oxygen back into the environment than a tree plantation, and because it is such a tough plant, no fertilisers or pesticides are needed.
GoReusable eco-coffee cups are made from bamboo fibre mixed with food-safe melamine. The company also plant one tree for every reusable cup sold, so you can feel even better when you use your new coffee cup.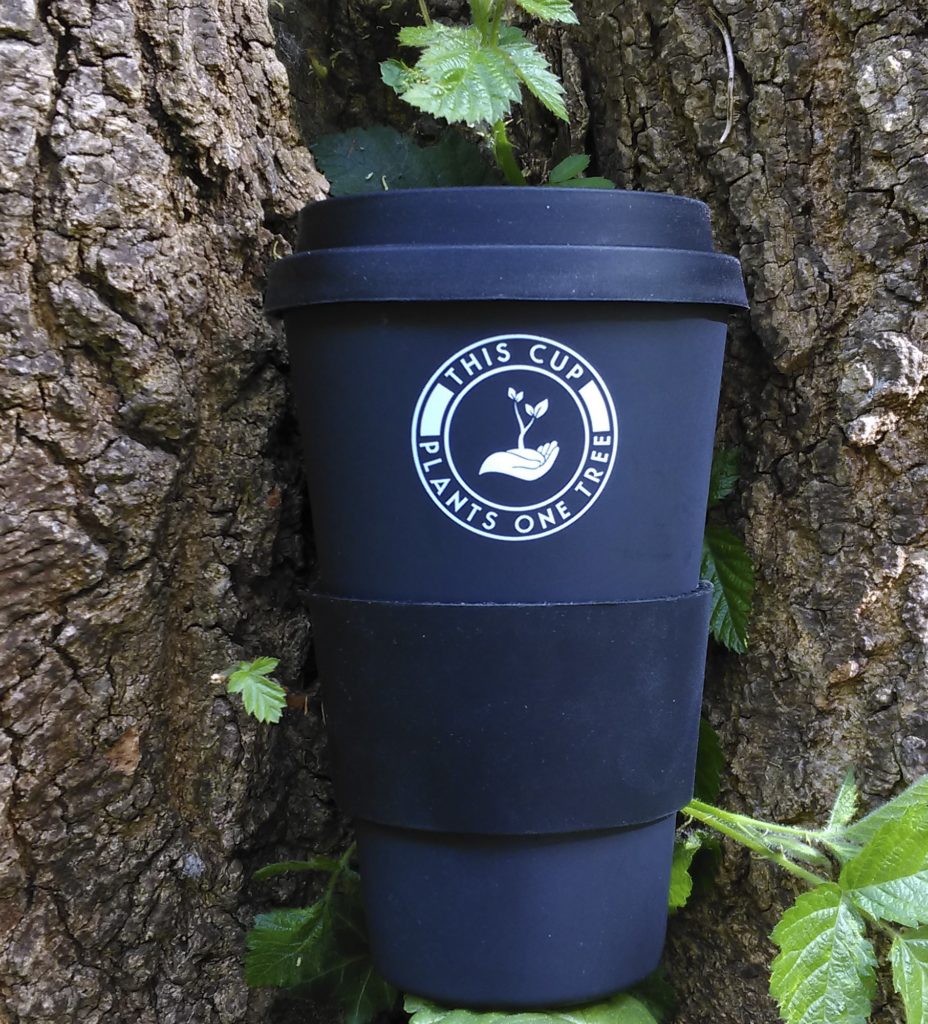 Why choose GoReusable eco-coffee cup?
They are durable as well as eco-friendly.

Uses sustainably grown bamboo that is also a manufacturing bi-product. The bamboo is used for making chopsticks, and the leftover wood is used to make the coffee cups.

Materials are food grade, and do not contain BPA or phthalates.

There are a choice of colours.

Reversible sleeve gives you a choice of textures.

Silicon lid prevents leaks and is easy to sip.
For more information, visit GoReusable.org.
Stainless Steel Reusable Coffee Cups
Reusable coffee cups made from stainless steel has a lot of benefits, however there are also some less favourable aspects.
The material is durable, so one coffee cup will last you for many years. It is also recyclable, so can be made into something else when you have finished with it.
Stainless steel has excellent thermo qualities, and will keep drinks hot or chilled for hours, and you don't get condensation forming on the outside.
If cleanliness is important to you, you won't get much better than stainless steel. It is more resistant to bacteria than many other materials.
The sleek looking designs also look great!
While stainless steel is not eco-friendly to produce, creating carbon emissions, it is still better than single use plastics. Only choose high quality cups, as cheaply made stainless steel can cause metals to leach into drinks.
Bru is one brand of stainless steel coffee cup that is known for its stylish looks.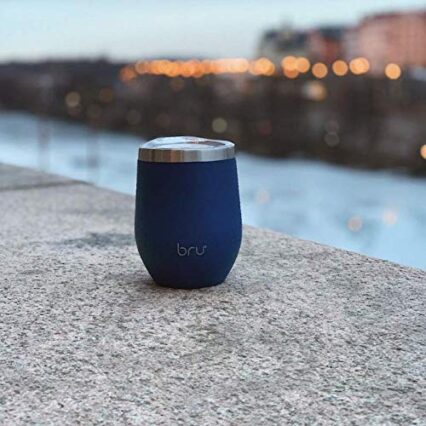 Why Choose Bru coffee cups?
18/8 food-grade stainless steel

Keep your drink hot or cold

Ergonomically designed for a comfortable hold

Five different colours to choose from.
One thing to note if considering reusable coffee cups, is that due to the wide base they do not fit standard car cup holders.
Glass Reusable Coffee Cups
Glass is a material that is becoming popular for reusable coffee cups, and while you might think that it's not the most suitable material for going out and about, glass cups are strong.
Glass is never degrades with use, so unless it breaks you will have a reusable coffee cup that will last for years. It is also recyclable.
Another benefit of glass reusable coffee cups is that the material will never taint your beverage, so you can enjoy fresh flavours.
A good glass reusable coffee cup brand is Eco Brew, a UK based company who offer a stylish yet practical solution to single use coffee cups.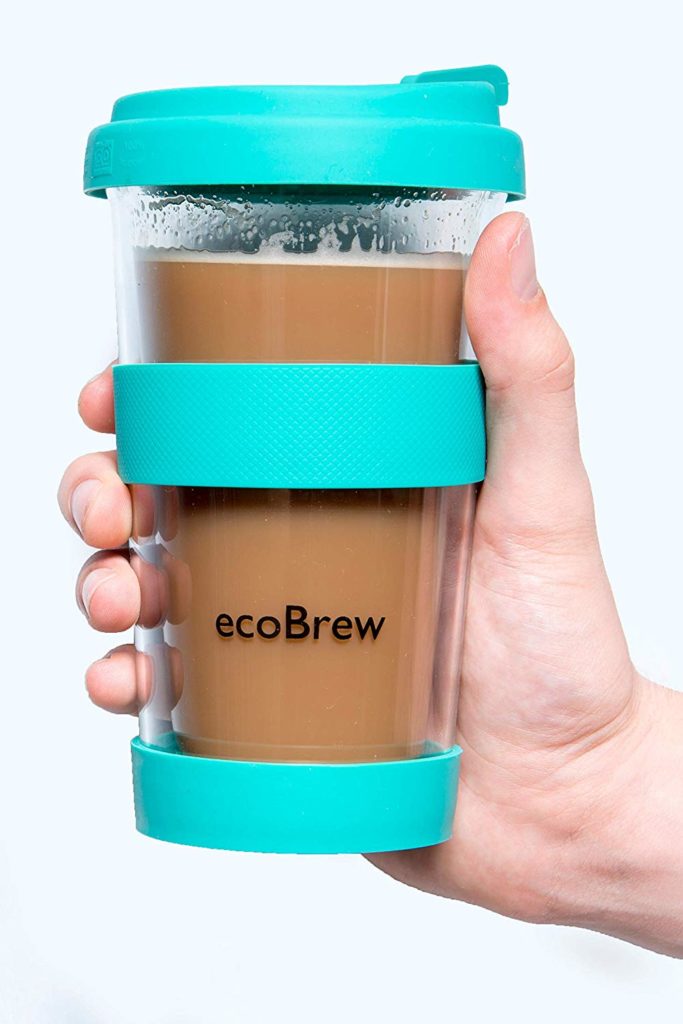 Why Choose Eco-Brew?
Made from high quality, robust and lightweight Borosilicate glass

Double walled construction prevents the formation of condensation.

Dishwasher safe

Barista friendly size – 12 oz

Stylish design
So now you have the know-how on the different materials used for reusable coffee cups, which shall you choose? Oh, and don't forget to enjoy your discounted beverages at some of the top coffee shops!
Do you use reusable coffee cups? If so, please share your favourite brand in the comments. The more we can encourage others to ditch the plastic, the more we can help the environment. Change can only happen if we are willing to make changes ourselves!