It's that time of year when delicious wild edibles are bursting into life. Plants such as wild garlic, Jack-By-The-Hedge and hairy bittercress are all coming to their best during this time of year, so it makes sense to make the most of this delicious free source of food!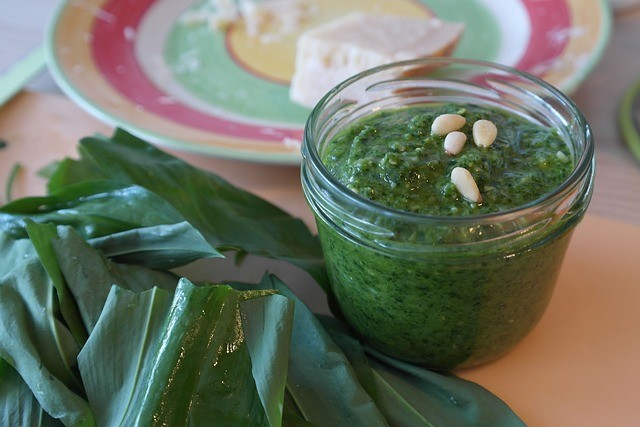 This delicious hedgerow pesto is quick to make and goes well as a pasta sauce, or just spoon onto any pasta dish as a tasty dressing before eating. It is also good to put on grilled meat and fish, or the table as an interesting dip.
Recipes for foraged greens rely on whatever is in season, but to make hedgerow pesto, there are plenty of fragrant and herby plants readily available through the year. The plants I like are Jack-By-The-Hedge (Hedge Garlic), Ramsons and Hairy Bittercress.
The leaves of Jack-By-The-Hedge taste of garlic with a hint of mild mustard flavour. Hairy Bittercress has a peppery punch, a little like watercress, and chickweed is a fresh tasting plant, almost like lettuce. The wild garlic really adds a pungent aroma to this recipe, but if you have trouble finding it you can also substitute it for a small clove of minced garlic.
The joy of recipes for foraged greens is that the quantities of plants below can be tweaked to taste.
Ingredients
150ml good quality olive oil
2 handfuls of Ramson leaves
2 handfuls of Jack-By-The-Hedge
Handful of Hairy Bittercress
50g grated parmesan cheese
50g pine nuts
Black pepper
Lemon juice
Method
Lightly toast the pine nuts in a frying pan over a low heat. Wash the foraged greens and chop finely, and put them into a pestle. You might not use the full quantity, but you can always add more if you have room. Add the olive oil, a pinch of salt, some ground black pepper, a dash of lemon juice and the toasted pine nuts, and work it into a fine paste in the pestle and mortar. You could also use a food processor to do the job just as well.
Put the mixture into a dish and stir in the grated parmesan cheese. You can add a little salt to taste, however the natural saltiness of the parmesan should be enough to give it flavour.
Best eaten fresh, this hedgerow pesto gives you big flavour with a minimal amount of effort.
Please share you recipes for foraged greens!