Foraging for wild plants and herbs is a great way to get in touch with nature. One of the most rewarding recipes for foraged greens is by turning them into delicious pesto. Pesto is a traditional Italian sauce made from herbs, nuts, garlic, oil and cheese. It can be used as a topping on pasta or as a tasty dip for vegetables, and it's super easy to make from foraged ingredients.
Wild plants such as wild garlic, Jack-By-The-Hedge and hairy bittercress are all come to their best during the spring and summer, so it makes sense to make the most of this delicious free source of food!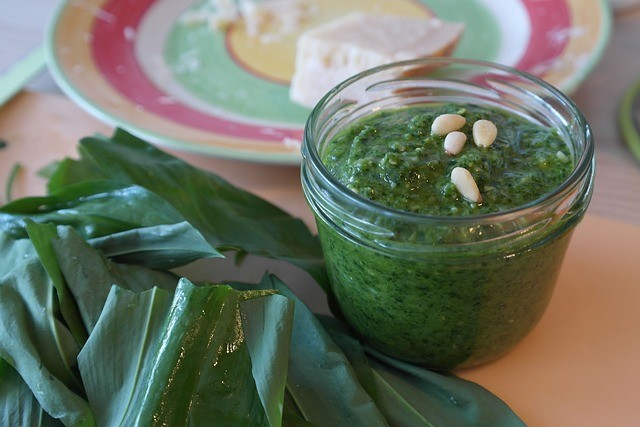 Recipes for foraged greens rely on whatever is in season, but to make hedgerow pesto, there are plenty of fragrant and herby plants readily available through the year. The plants I like are Jack-By-The-Hedge (Hedge Garlic), Ramsons and Hairy Bittercress.
Wild garlic (also known as Ramsons) grows in shady, damp areas and has a strong onion-like smell. The leaves are long, smooth and green on top with a white underside. Wild garlic is incredibly tasty and packed full of flavour – perfect for adding an extra kick to your pesto.
Another great plant to use is wood sorrel (Oxalis acetosella). Wood sorrel has clover-like leaves that are slightly acidic in taste, giving your pesto a sharp but pleasant tangy flavour. Wood sorrel grows in open fields and alongside paths, so it's relatively easy to find.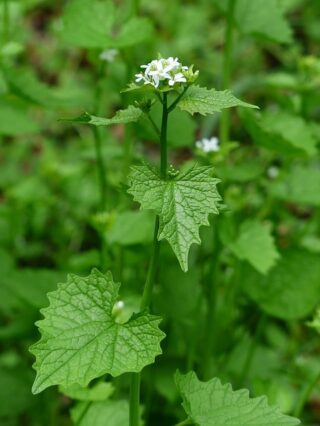 The leaves of Jack-By-The-Hedge taste of garlic with a hint of mild mustard flavour. Hairy Bittercress has a peppery punch, a little like watercress, and chickweed is a fresh tasting plant, almost like lettuce. The wild garlic really adds a pungent aroma to this recipe, but if you have trouble finding it you can also substitute it for a small clove of minced garlic.
This delicious hedgerow pesto is quick to make and goes well as a pasta sauce. Or, simply spoon onto any pasta dish as a tasty dressing before eating. It is also good to put on grilled meat and fish, or the table as an interesting dip.
The joy of recipes for foraged greens is that the quantities of plants below can be tweaked to taste.
Ingredients for Hedgerow Pesto
150ml good quality olive oil
2 handfuls of Ramson leaves
2 handfuls of Jack-By-The-Hedge
Handful of Hairy Bittercress
50g grated parmesan cheese
50g pine nuts
Black pepper
Lemon juice
Method
Lightly toast the pine nuts in a frying pan over a low heat. Wash the foraged greens and chop finely, and put them into a pestle. You might not use the full quantity, but you can always add more if you have room. Add the olive oil, a pinch of salt, some ground black pepper, a dash of lemon juice and the toasted pine nuts, and work it into a fine paste in the pestle and mortar. You could also use a food processor to do the job just as well.
Put the mixture into a dish and stir in the grated parmesan cheese. You can also add a little salt to taste, however the natural saltiness of the parmesan should be enough to give it flavour. Best eaten fresh, this hedgerow pesto gives you big flavour with a minimal amount of effort.
Foraged Greens: A Culinary Adventure in Sustainable Eating
Foraged greens offer a unique and nutritious addition to any culinary repertoire. Incorporating these wild greens into your recipes can provide a delightful twist and a connection to nature's bounty.
Remember, when foraging for greens, it is essential to properly identify the plants and ensure they are safe for consumption. Harvest from areas that are free from contamination and practice sustainable foraging techniques by not over-harvesting or damaging the plants and their habitats.
Embracing the flavors of foraged greens in your recipes can add a touch of adventure and a connection to the natural world, enhancing both your culinary experiences and your appreciation for the edible treasures found in nature.
For more on foraging, see our Guides to Wild Edibles.