Garden tillers, or rotavators, make light work of cultivating soil and are a great solution to preparing the garden for growing fruit and vegetables, taking the work and time out of digging. Choosing the right tiller for your garden ensures you get workable soil every growing season.
What is a Tiller?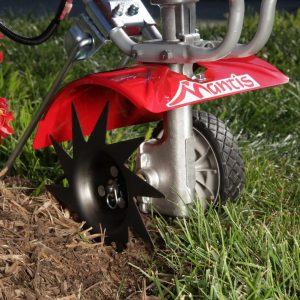 Tillers come as mini, small or large machines, some have tines at the front, and some have tines at the rear. The front tine tillers are lightweight and best for weeding between rows.
Tillers with tines at the rear are heavier and can work on tougher jobs, such as turning an un-worked patch of ground into a vegetable bed.
The more times you push the tiller over the soil, the finer the particles become.
Choosing the right tiller – what to  consider:
1. Is it the appropriate tiller for the job? For example, a small front tine tiller is best for cultivating and weeding soil that has already been worked, and rear tines tillers are more suitable for heavy, unworked areas.
2. What is your soil type? Mini tillers work best in small gardens with good, loose soil. Front tine tiller are good for medium sized gardens with moderate soil, and rear time tillers do the heavy work of sorting out large areas of rocky or unworked soil.
3. Is it durable and comfortable to use? If you are spending money on a tiller, you want it to be something that's quality made and easy to use.
4. Electric or petrol? Electric tillers are fine if you just want to use it in the garden. If you want to use a tiller elsewhere, such as an allotment, you are unlikely to have an electricity supply. A petrol rotavator is one you can transport and use 'in the field'.
5. Budget. Tillers range is price, so do your research and get one that offer value for your garden and your wallet. Cheaper makes might do well if you just have a small area, but might not last for regular heavy duty work. Before purchasing, read reviews to make sure you are getting a quality machine that will last.
Tillers are an asset to any gardener, and choosing the right one will take the work out of cultivating your soil for years to come.
T-Mech Garden Tiller / Rotavator