Blogging is a pleasure, but I like to explore all the Let's Grow Wild topics in more detail in my published works!
Click on the links to buy or learn more. Thanks!
---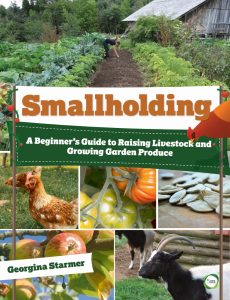 Smallholding is 275 pages of practical, comprehensive advice about smallholding for beginners, aimed at people who have access to land, as well as those growing produce in their back garden.
Providing a comprehensive overview of smallholding for the beginner, this is a practical guide to growing food and farming livestock.
It helps the reader learn how to incorporate some self-sufficiency into their lifestyle, to become knowledgeable enough to keep livestock, and to enjoy working and being productive with the land they have. You can also learn about making a profit from the fruits of labour, such as selling surplus home grown produce at the farm gate or farmers' markets.
Contents include an A-Z growing guide for fruits and vegetables, topics such as buying or renting land, soil health, composting, fruit trees, pasture management, stock fencing; and detailed livestock information about keeping bees, caring for poultry, goats, llamas and alpacas, pigs, sheep and cattle, and the legal requirements that come with it.
Smallholding as a concept is not limited to small-scale farming, and anyone can bring parts of it to their everyday lifestyle, whether it's a window box to grow produce, a garden to keep chickens or a field or two for other livestock.
---