(Bellis perennis)
Can you really eat daisies? Yes, you can!

Daisies are easy to find growing in any grassy area throughout spring, summer and autumn. Often thought of as a weed, daisy have been used for centuries as a food and medicinal herb.
The roots, leaves and flowers of the daisy plant are all edible.
Health benefits of Daisies
Daisies can be used as a food and as a medicine. It was once prized as a herb to help heal wounds, and it is related to plants such as Arnica and Calendula. A tincture or ointment made from daisies has anti-inflammatory effects, and as daisy infusions can be used to treat colds, coughs and rhinitis.
Daisies are a good source of vitamin A and potassium, and the leaves of the daisy plant are rich in vitamin C.
Daisies are a good plant to pick if you are feeling the effects of ailments from colds and flu, to rheumatism and muscle soreness. Add flowers and leaves of the daisy plant to any dish for a health boost.
What do Daisies look like?
Daisies are a plant that most people will know. The flower has long, white petals and a yellow centre, and it grows on a single stem.
The leaves of the daisy plant form a rosette from the base, and develop small hairs as they grow.
Eating Daisies
Daisy flowers have a mild, lemony flavour and can be added to many dishes, such as soups and salads, and they make an attractive garnish. The leaves have a slightly bitter taste.
A healthy 'daisy tea' can be made by steeping two teaspoons of dried or fresh flowers in hot water. Leave it to brew for ten minutes and then strain. Do not consume more than three cups per day.
Considerations when eating Daisies
Everything in moderation is key when it comes to eating wild plants. Some people are allergic to certain plant species.
Daisies have some powerful medicinal attributes, so moderation is advised. Avoid eating daisy plants if pregnant or breast feeding.
Back to list of wild edible foods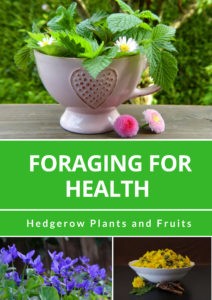 Are you interested in the idea of foraging, but are not sure how to start? Have you been wondering what you can actually cook with the wild foods you have gathered? Imagine being able to recognise wild foods, and enrich your diet for free!
What if you knew the medicinal benefits of the plants around you, and were able to make healing remedies instead of relying on synthetic medications? With that knowledge in mind, taking an outdoor stroll would take on a whole new significance and meaning.
Want to know more about foraging? Get a copy of Foraging For Health – Hedgerow Plants and Fruits now!