Blackberry (Reubus)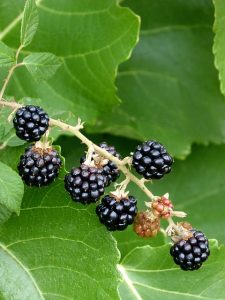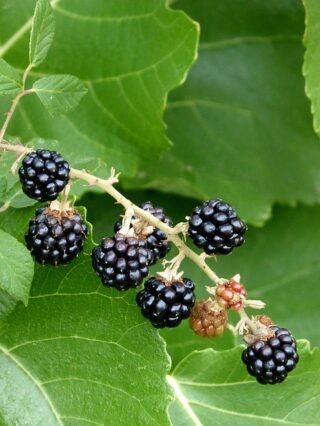 Foraging for blackberries is something that is an enjoyable way to spend a sunny afternoon in autumn.
Most people will recognise a blackberry bush. The long, thorny stems grow to produce white flowers with yellow stamens. The clusters of berries start off green, turn to red and then to a lustrous black when ripe. The leaves are fan shaped and serrated.
Blackberries are found in hedgerows all over the UK. They ripen from late summer onwards and can provide a forager with some of the richest pickings of the season.
Blackberries are used in all sorts of culinary dishes, preserves and are especially good when paired with apple in pies and crumbles.
Health Benefits of Blackberries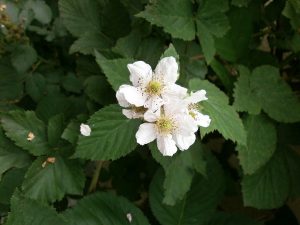 The leaves of the blackberry bush have also been long used as a medicinal treatment for all sorts of ailments, such as digestive problems, and blackberries are a good source of fibre. They have large quantities of vitamin C, which helps the immune system.
Blackberries are one of the best sources of antioxidants of any fruit. One antioxidant is ellagic acid, which keeps skin healthy and offers some protection from UV damage.
Storing Blackberries
Foraging for blackberries, you often pick far more than you can eat in one go, and freshly picked blackberries do not keep for long before they turn mouldy.
Blackberries are easy to store frozen. One method is to freeze a few on a baking tray and then put into a freezer bag. Repeat this method until you have a bag of individually frozen berries that you can use whenever you want. The leaves can be dried and used to make into a refreshing tea.
Blackberries are a versatile fruit, and with such an abundance available each autumn you can really stock up with a supply to last you all winter.
Back to list of wild edible food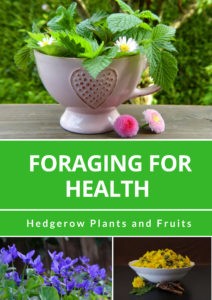 Are you interested in the idea of foraging, but are not sure how to start? Have you been wondering what you can actually cook with the wild foods you have gathered? Imagine being able to recognise wild foods, and enrich your diet for free!
What if you knew the medicinal benefits of the plants around you, and were able to make healing remedies instead of relying on synthetic medications? With that knowledge in mind, taking an outdoor stroll would take on a whole new significance and meaning.
Want to know more about foraging? Get a copy of Foraging For Health – Hedgerow Plants and Fruits now!