It's time to get excited about natural deodorants! Why? Because we deserve something effective for our skins that isn't laced with harmful ingredients! One natural deodorant is Native Unearthed. Here's my Native Unearthed Deodorant Balm review!
Native Unearthed Deodorant Balm is a natural product that claims to effectively combat underarm odours with long lasting results. But does it really work?
I have to admit that over the years I have always used a pretty strong deodorant under my arms, and while it does the job of getting rid of sweat and smells, my skin often feels irritated.
Previously, I would use any cosmetic or beauty product without question, but now I'm on a crusade to reduce the amount of chemicals I use on my body.
Why use natural deodorants, rather than antiperspirants?
Most antiperspirants you see on the shelves contain aluminium, and this has been linked to illnesses including Alzheimer's and cancer.
Most natural deodorants use mineral salts. The unpleasant sweat smell from underarms is caused by bacteria, and the theory is that applying a thin layer of mineral salt to your underarms prevents the growth of bacteria, therefore preventing unwanted smells.
---
Even so called aluminium free natural deodorants do actually contain aluminium!
---
A common ingredient in aluminium free deodorant is Potassium alum: Potassium alum is an antibacterial mineral salt that has been used for hundreds of years. While Potassium alum is a kind of aluminium, it is nothing like the aluminium chlorohydrate found in antiperspirants. The aluminium in antiperspirants blocks the pores that release sweat and can be absorbed into the body.
The alum in mineral salt deodorants are said to be of molecules that are too large to be absorbed by the skin. When applied, it sits on the skin surface to control bacteria growth. It does not block pores or prevent sweating, so the body is still able to release toxins through sweat.
While these natural deodorants are a much better alternative to antiperspirants, you are still putting some form of aluminium on your skin.
---
Native Unearthed Natural Deodorants are different!
---
The company philosophy is that if 'you wouldn't put it in you, then don't put it on you!' They do not contain aluminium in any form, are not tested on animals. Suitable for vegetarian and vegans.
Here are the ingredients in the coconut and vanilla Native Unearthed Deodorant Balm:
Bicarbonate of Soda – Neutrilises Odour
Arrow Root – Absorbs Moisture
Shea Butter – Moisturises and Soothes
Coconut Oil – Nourishes skin
Vanilla Essential Oil – Gentle floral finish/soothes skin
The Verdict
Opening the jar, there was a lovey smell of coconut, but not too sweet or overpowering. The balm itself is quite hard, but you only need to use a pea-sized amount, so I expect it to be long lasting. Inside you get a little scoop to conveniently take the right amount. Once the balm is lightly rubbed, it softens and is easy to apply to the underarm area.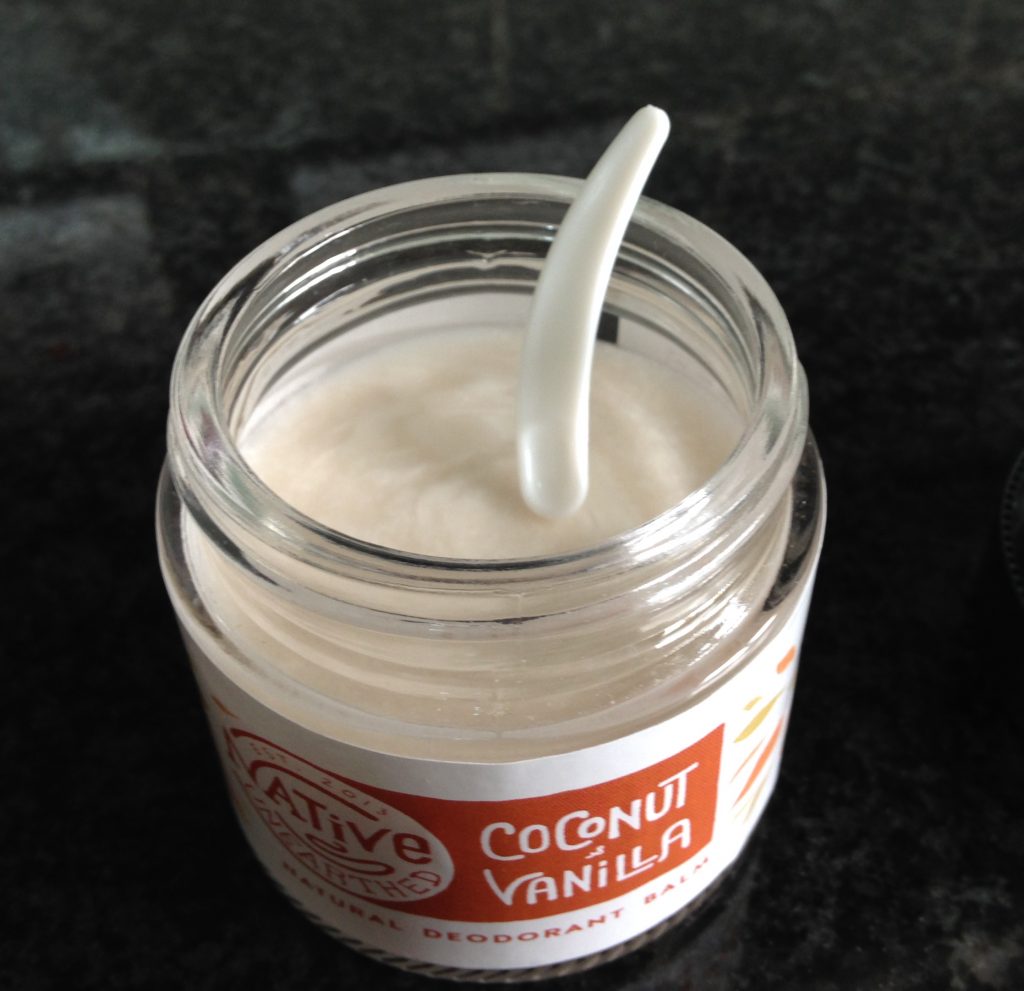 Unlike with roll-on deodorant, there is no waiting for Nature Unearthed deodorant balm to dry. The feeling is dry and fresh straight away, so you can dress and go!
By the time evening came I still felt fresh, much more than I would if I were using my usual deodorant. I think a key ingredient that makes Native Unearthed deodorant balm work is  arrowroot. Arrowroot is a starch that is great for the skin, has healing properties and naturally absorbs moisture.
Are there any negative points about using Native Unearthed Deodorant Balm?
The only niggle I have with this balm is that I don't think it would do the job if I was going out for the evening. But, the pot is a nice size to fit in a bag, so I would take it with me to reapply when needed. Although this is a bit of an inconvenience, it is better than using conventional deodorants.
Thoughts on Native Unearthed…
I've been a lifelong user of well-known brands of roll-on and spray deodorant, and mostly being a user of the '48 hour protection' strong ones, I admit I didn't think this product would work for me. However, I have been amazed at how just a few simple ingredients can do such a good job.
As I've been making changes towards more natural alternatives, giving Native Unearthed Deodorant Balm a try has really been worth it. I would recommend it to anyone looking to start making changes to lessen the chemical load we are subjected to daily. I can't wait to try another fragrance, like the lavender!
This one little jar of Native Unearthed deodorant balm lasted me over two months, with a daily application. For me, this deodorant has been effective, good value for money and I have peace of mind when using it. It feels luscious and smells great when you put it on, and leaves skin feeling soft with no odour all day. What more do you want from a daily deodorant?
---
Lessen the chemicals you use by making small changes. A natural deodorant is one step to a healthier lifestyle!
---
Try Native Unearthed Deodorant Balm for yourself! Click the pictures below to find a fragrance!

If you like this review of Native Unearthed Deodorant Balm, see also my review of The Natural Deodorant Co. Lemon and Geranium balm.
It makes sense to reduce the chemicals we use in our beauty products, but have you thought  about how to reduce them in your home? Find out more about using natural cleaning products in this post.
 Are you making the move to natural deodorants? Please share your favourites and why you like them with Let's Grow Wild readers!